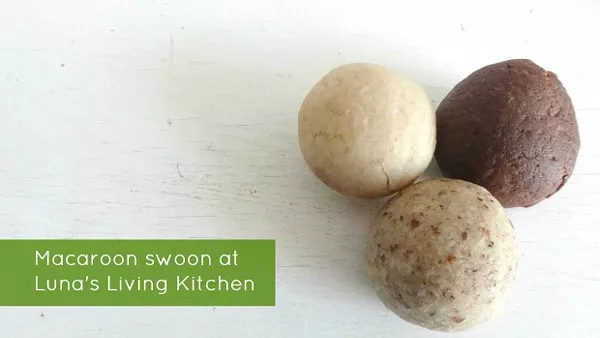 There are many reasons to love Luna's Living Kitchen.The fresh-pressed organic juices and artfully curated cuisine could convert even the neighborhood butcher to a raw foods lifestyle so, naturally, it's easy to be a repeat customer.

As if an incredible menu of living foods wasn't enough, I discovered yet another reason to return to the darling space nestled inside a row of giant glass cookie jars on top of the chef's counter. Luna's is serving up handmade macaroons that will have your inner fat kid reaching for the cookie jar. Only, these treats won't leave you with a Chips Ahoy hangover.

As with all the items at Luna's, the macaroons are made with the same care and consciousness. Juliana Luna, the sweet Colombiana and savvy lady entrepreneur behind Luna's, tells me that she sources only the highest quality organic ingredients to make the macaroons.
Macaroons are sweet confections that have seemingly broken international barriers with nearly every country having a variation of its own. In America, macaroons are typically made with coconut, while the French tout the airy, colorful versions made of meringue.
At Luna's the macaroons are made with a mixture of almond or hazelnut flour, coconut, maple syrup, coconut oil and spices. There are two packaged varieties to choose from: The Yin Yang macaroon duo (my favorite) and the Orange Spiced Macaroon. The Yin Yang contains one chocolate macaroon imbued with rich cacao powder and one vanilla macaroon.
I asked for a recipe, but Luna says hers is on lockdown. When I asked what makes her macaroons different, she tells me, "It's the people."
Gesturing with her petite hands, Luna shows me how each macaroon is meticulously rolled by hand. They once tried using a more efficient method to prepare the bite-sized treats, but it wasn't the same. Each macaroon must be handmade.
For the staff at Luna's Living Kitchen, food preparation is a form of interacting and connecting with the customers. It's part of the Luna's philosophy and one that permeates each bite of macaroon alongside the decadent coconut oil.
Did I mention these treats were gluten-free, dairy-free and guilt-free? Consider this your permission to release your inner fat kid. Forever.
Luna's macaroons come in packages of two labeled with its brand-new, fresh to death logo. Luna's Living Kitchen is located next to the Atherton Mill Market in South End at 2102 South Blvd. They are open Monday through Saturday 8 a.m. to 9 p.m.
Keia Mastrianni loves to tell stories about local food products and the people behind them. When she's not scouting out local discoveries, she's steadily working in her vegetable garden, spending time in the kitchen and nosing through cookbooks. She maintains a happy food blog called The Sunnysideup where she shares recipes and her culinary adventures.