This time of year, people are crazy for pumpkin. And I have to admit that I'm one of those people.
But while the rest of the pumpkin heads are clamoring for their pumpkin spiced lattes, pumpkin bread, pumpkin cupcakes and pumpkin scented candles, I'm getting a little more creative. I like the sweet spicy smell of all these pumpkin treats, but one cannot live on pumpkin bread alone.
Enter pumpkin black bean soup. It's hearty and super filling, with a subtle spice. If you're looking for more bite to your spice, toss some of my toasted spicy pumpkin seeds for crunch and another layer of delicious flavor.
This soup is perfect for those of you who can't get enough pumpkin in your life, but it's also great for those of you who just can't get on the pumpkin bandwagon. It's a completely unique take on the most loved squash of the season.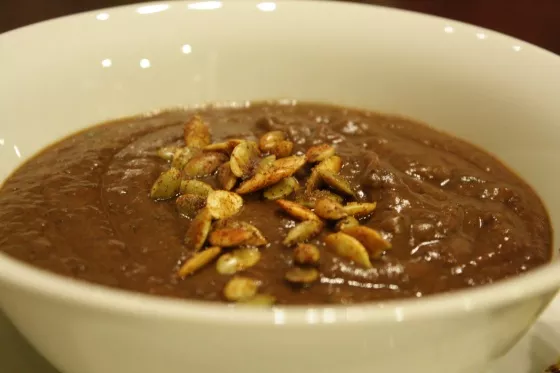 Hearty pumpkin soup made super filling with black beans
PUMPKIN BLACK BEAN SOUP
1 chopped red bell pepper
1/2 chopped yellow onion
1/2 Tablespoon of extra virgin olive oil
8 cups low sodium vegetable broth
2 16 ounce cans black beans
2 cups canned pumpkin
1/4 cup chopped fresh cilantro
1 tsp. cinnamon
1 tsp. cumin
1 tsp. salt
1/2 tsp. white pepper

Saute onions, and red peppers olive oil on medium heat until onions begin to caramelize. Meanwhile, bring broth to a simmer in a large pot. Add cooked peppers and onion, canned pumpkin, and black beans to the pot. Add herbs and spices, mixing well. Allow to simmer for at least 30 minutes, then puree with an immersion blender or by transferring the soup in batches to a blender or food processor. Blend until smooth.
Serve hot, sprinkled with toasted spicy pumpkin seeds (recipe follows)
TOASTED SPICY PUMPKIN SEEDS
1/4 cup pumpkin seeds
1/2 teaspoon extra virgin olive oil
1/4 teaspoon cayenne pepper
1/4 teaspoon salt
Preheat oven to 400 degrees. In a small bowl combine seeds and oil, mixing well to coat. Sprinkle cayenne pepper and salt over the seeds and mix well to thoroughly coat. Place seeds on a baking sheet, spreading evenly, so seeds do not overlap. Bake on the center rack in the oven for 15-20 minutes, or until seeds have browned, but are not burned.

Kelly Davis is a blogger, freelance writer, food enthusiast, and native North Carolinian. When she's not training for a race or cooking something delicious in the kitchen, she's writing, reading, snuggling her dachshund, or plotting her next project. You can keep up with Kelly's antics and recipes on her blog, Foodie Fresh.