I can't believe it took me this long, but I finally made it over to Zucca Pizza Tavern to try out my latest neighborhood pizza place in South End. I watched the construction of the pizza joint during my weekly trips to Atherton Mill Market, anticipating a new pizza place.
We already have some awesome pizza restaurants here in Charlotte. A good thing, too, as it's one of my favorite foods. A city cannot have one too many good pizza places, so I welcome new pizza places (especially those I can walk to) with open arms.
When I first entered Zucca, I was impressed by their bar, which gives the place a more pub-like feel. Zucca has plenty of large TVs and even some smaller TVs over the booths for watching sports. On this particular night, Thursday night football was on and there were several Green Bay Packers fans at the bar.
After looking over the extensive beer menu, the waitress was kind enough to let me sample the OMB seasonal, but I ended up going with the Sam Adams Oktoberfest.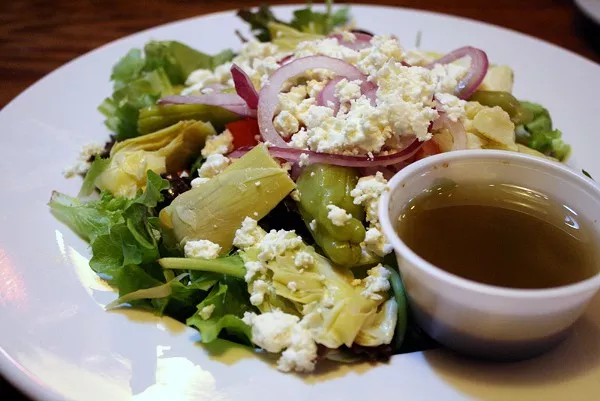 This Greek salad won me over with its artichokes.
With a little coaxing, my husband, who is always along for the ride when pizza is involved, agreed to ordering a salad prior to our meal. We both love Greek salads (despite my distaste for olives) so that was the obvious choice. Had my husband not been present, the salad choice would have been much more difficult. Zucca has seven different salads, including the Buffalo Calamari Caesar Salad.
When I saw this particular menu item, I immediately texted my pescetarian friend who has had a love affair with the (now discontinued) buffalo oysters on Crepe Cellar's menu. She visits from the Raleigh area several times a year, so I'm happy to have found her a good substitute.
When it came to deciding on a pizza, the Victory Pie was the obvious choice: 1) Because it won the International Pizza Expo and 2) Because I've loved basil ever since I discovered it while honeymooning in Italy. The Victory Pie is a Margherita Pizza with parsley sausage and mushrooms. The sausage is surprisingly very mild.

What sets this pizza apart from those found in other pizza places in Charlotte is the crust. The crust isn't thick and doughy; it's a thin crust. But it's not the type of thin crust you would get at Domino's. It's flaky and just a bit chewy. While it was my favorite part of the pizza, the buffalo mozzarella and the basil ran a close second.
Some of the other menu items that caught my eye were:
- Appetizer: Italian Risotto Balls: Risotto ( rice ) mixed with mozzarella,stuffed with beef, breaded and fried served with marinara
- Sandwich: Freshly grilled zucchini, eggplant and portabella mushroom topped with fresh vine ripe tomato and fresh mozzarella. Served with side of balsamic vinaigrette.
- Pizza: Buffalo Chicken Pizza with blur cheese and ranch sauce topped with chicken cutlets, tomatoes, bacon, mozzarella and cheddar cheese. Topped off with buffalo wing sauce and blue cheese crumbles.
Zucca also features several chicken and mahi mahi dishes, as well as pastas for both vegetarians and carnivores. You can build your own pizza or choose from one of their seven specialty pizzas, as well as their calzones and pizza rolls.
Just before leaving, I caught a glimpse of the drink specials posted on the wall. I love a place that has a drink special every night of the week, especially on weekend nights. That's mighty generous of you, Zucca.
If you want to try out Zucca Pizza Kitchen for yourself, check them out in South End at Atherton Mills, 2000 South Blvd.