Feel that, Charlotte? There's a cool breeze in the air and the promise that fall will be here soon. Nine days, in fact.
But for me, the first day of fall is just another day on the calendar, and fall is so much more than that. My favorite part of this new season is the return of comfort food to my kitchen. When I say comfort food, I immediately think of soup. Soup is about to make a comeback in my kitchen and in a big way.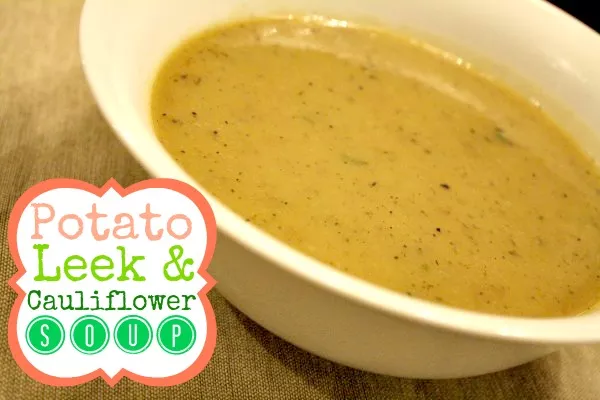 Potato, Leek, & Cauliflower Soup
You can make enough to feed an army with very little effort and freeze it to be enjoyed whenever you like. Not that that ever happens in my house. My soup goes pretty fast. I am not the Soup Nazi, but I am the Soup Inhaler. When I find a soup I like, I eat it at every meal, so excess soup is rarely a problem. My husband has also been known to eat my soup for breakfast. I don't like to brag, but the fact that he'll eat my soup for breakfast ... well, that's saying something.
Potato, Leeks, Cauliflower, and Shallot
If you've got a jonesing for the fall and want to want to make soup that you'll take over cheerios, check out my latest soup concoction below.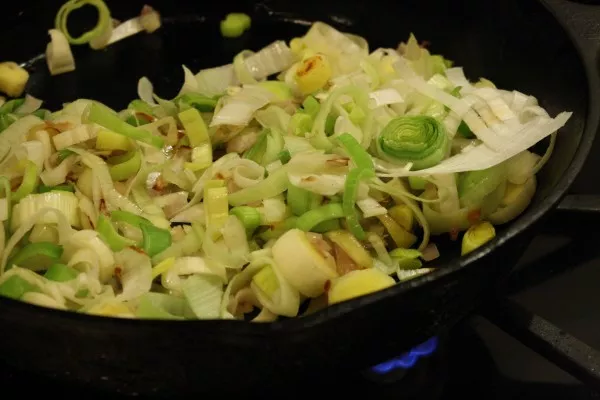 Sauté the leeks and shallots in some olive oil

POTATO, LEEK, AND CAULIFLOWER SOUP (serves 6-8)
8 cups vegetable broth
1 pound yukon potatoes, chopped
12 oz. (3/4 pound) cauliflower, chopped into florets
2 teaspoons extra virgin olive oil
1 large shallot, minced
2 leeks, trimmed and chopped
2 teaspoons dried thyme
2 teaspoons dried parsley
2 teaspoons sea salt
1 teaspoon ground black pepper
1 cup skim milk*
Bring broth to a simmer in a large pot. Add potatoes and cauliflower. Increase heat and bring to a boil. Reduce heat so that stock continues to boil slightly. Cook Potatoes and cauliflower for at least 30 minutes total.
Meanwhile, heat olive oil in a pan. Add shallots and saute for one minute. Add leeks and saute, stirring often, until leeks began to brown.
Add the leaks and shallots to the pot. Add spices and herbs. Continue cooking until potatoes and cauliflower are very tender and will break up easily with a spoon. Puree with a blender or food processor. Add milk and stir.
Serve immediately or allow to cool and store in an air tight container.
* If you like a more decadent soup, substitute the milk for 1/2 to 3/4 cup of heavy cream.
Kelly Davis is a blogger, freelance writer, food enthusiast, and native North Carolinian. When she's not training for a race or cooking something delicious in the kitchen, she's writing, reading, snuggling her dachshund, or plotting her next project. You can keep up with Kelly's antics and recipes on her blog, Foodie Fresh.