Nancy Boru is no stranger to adversity. This baker turned "Jane of all trades" turned toffee maker knows a thing or two about being down and out, although she's never down for long. After all, she's got toffee to make.
In 1989, Nancy Boru found herself in a battered women's shelter in Pittsburgh, Penn., with $17 in her pocket and two young children to feed. Her brother was tragically murdered by an abusive spouse and she was struggling to escape a similar fate from her own abusive marriage.
In search of a new life and new purpose, Boru fled to southwestern Colorado where she lived, worked and healed at the foot of Lone Cone Mountain. Struggling to make ends meet, she relied on food stamps and social services while she worked odd jobs sewing, installing drywall, refinishing furniture and bookkeeping until one day a friend asked for a sentimental favor.
Craving the comfort of his grandmother's toffee, Boru's friend handed her a recipe he had found between the pages of a Minnesota library book. He asked her if she would make a batch of toffee.
"I had made toffee before, but not like this," Boru says.
The toffee was so good she decided to bring it with her to a craft sale where she sold a few other items. That day, nothing sold except for the toffee and Boru knew she was on to something. She tweaked the recipe to create her own authentic toffee and was given $100 from a friend to start the business. That was January 1996, and Boru has been making toffee ever since.
The toffee business has not been without its struggles. For 16 years, Boru made toffee without a kitchen, a culinary nomad roaming from kitchen to kitchen. She rented out community kitchens, schlepped her goods from place to place and relied heavily on the generosity of others.
"I know life can change in a minute and really heavy things come down. I just don't sweat the small stuff," says Boru.
In 2003, she moved to North Carolina to be closer to her daughter and three grandchildren who affectionately call her "Grancy." Once again, Boru had to start over. After a few more years of kitchen hopping, she landed in Indian Trail, setting up shop in Dolce Paradiso Bakery, a bakery she started with another pastry chef, Azeb Kidane, 14 months ago.
There, Nancy makes her signature toffee, buttery and sweet with just the right amount of crunch. Lone Cone Toffee comes in four flavors — original, peanut (my favorite!), coffee and peppermint. You can also find toffee in the shop's baked goods. There are Lone Cone Toffee brownies, Mocha Toffee cupcakes, Peanut Toffee thumbprints and Craisin Toffee Oatmeal cookies.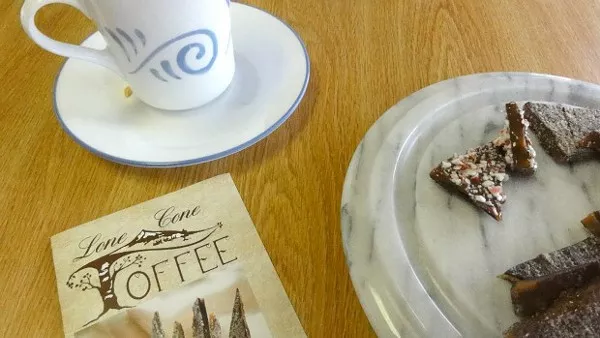 The morning we met, Boru was enrobing iced cupcakes in chocolate ganache. She made me a latte and we talked over a plate of toffee. What stood out to me was not the toffee, although it was remarkably good, but the enduring spirit of a survivor. Lone Cone Toffee still stands after all these years like its namesake, a mountain that helped a broken woman heal and persevere to realize her dreams.
"Things turn out," says Boru. "Sometimes you don't know how, but they always do."
Dolce Paradiso Bakery is located at 4409 Old Monroe Road in Indian Trail. They are open 8 a.m. to 7 p.m. Monday through Friday and 8:30 a.m. to 7 p.m. on Saturdays. Learn more about Lone Cone Toffee by visiting the website www.loneconetoffee.com .
Keia Mastrianni loves to tell stories about local food products and the people behind them. When she's not scouting out local discoveries, she's steadily working in her vegetable garden, spending time in the kitchen and nosing through cookbooks. She maintains a happy food blog called The Sunnysideup where she shares recipes and her culinary adventures.