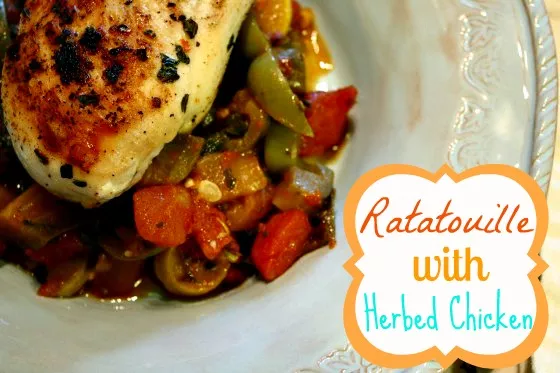 Ratatouille with Herbed Chicken
Greetings from France!
I arrived in France at about 6:30 a.m. Paris time this morning, which was about 10:30 p.m. yesterday for you. My husband Brad and I just embarked on a two-week excursion of France, beginning in The Loire Valley, to which we will travel today via train. We plan to make a wide loop through France, hitting up Dordogne, The French Riviera, Provence, then back to Paris for our two-year wedding anniversary. It's going to be nothing less than amazing, and I plan to bring back tons of new French recipe ideas and factoids of French cuisine to share with you.
French food is one of my very favorite cuisines. Although I've never been to France before, I've eaten and cooked my share of French dishes, which I'm dying to share with you. And what better time to share what I already know about French cuisine than when I'm experiencing it firsthand.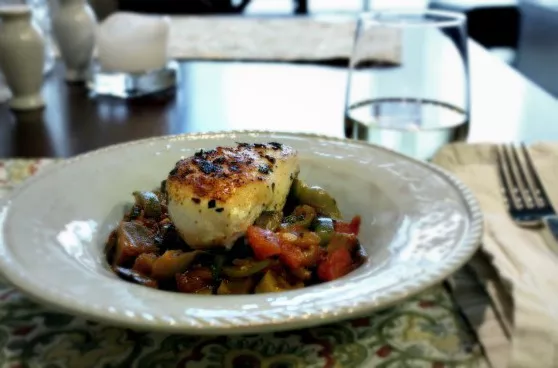 Ratatouille - an easy and elegant meal
One of the most distinctive attributes of typical French food is that the French try to eat seasonally. So, let's start with a wonderfully simple meal using ingredients that you can purchase right now at your local farmers market or perhaps even pick from your very own garden.
That is, unless someone stole all of the tomatoes from your garden, which is what happened to my garden last week.
Classic French Ratatouille
RATATOUILLE WITH HERBED CHICKEN (serves 2)
This fresh summery dish can be easily doubled or tripled to serve more than just a couple.
2 cups fresh basil, chopped
2 lbs. tomatoes, chopped roughly*
2 yellow squash, sliced
1 medium eggplant, chopped roughly
1 green bell pepper, chopped
2 large cloves of garlic (~ 2 Tbsp.)
1 tsp. dried oregano
1 tsp. dried parsley
1 tsp. red pepper flakes
1 tsp. sea salt
1/4 cup extra virgin olive oil
For the chicken:
8 oz. skinless chicken breast
1/2 tsp. paprika
1 tsp. dried basil
1 tsp. garlic powder
1/2 tsp. salt
fresh ground pepper
1 tsp. extra virgin olive oil
Combine all veggies in a large pot on medium high heat. Stir periodically cooking for 10-15 minutes. Add all seasoning and spices and cook for an additional 15 minutes. Add oil and stir to incorporate throughout.
Heat a pan to medium high heat with 1 tsp. of oil. Mix all of the herbs and spices for the chicken and sprinkle evenly over both sides of each piece of chicken. Saute the chicken until browned on both sides (~5 minutes each). Turn heat to low and allow to cook for an additional five minutes or until the center of the chicken is no longer pink.
Plate ratatouille with a piece of chicken on top and serve immediately.
*Can substitute a 32 ounce can of diced tomatoes.
Kelly Davis is a blogger, freelance writer, food enthusiast, and native North Carolinian. When she's not training for a race or cooking something delicious in the kitchen, she's writing, reading, snuggling her dachshund, or plotting her next project. You can keep up with Kelly's antics and recipes on her blog, Foodie Fresh.