I get jealous of the West Coast, not going to lie. I see friends posting pictures of their latest raw meal at Gratitude Café, drinking kombucha on draft, happily picking cherries next to Alice Waters and I pine for something similar here.
Well, thanks to Townes Mozer, owner and brewer of Lenny Boy Kombucha, Charlotte just got a little west coast sentiment on tap. I found Lenny Boy while wandering about my local Healthy Home Market. If you were there that day, I was the girl slurping a cup of kombucha with a huge grin on my face hoping everyone would notice.
Charlotte! We've got kombucha on tap!
This was cause for celebration or, at least, further investigation. With a name like Lenny Boy, I half expected to find some mountain man dressed like a Hatfield or McCoy, chewing on tobacco while brewing his latest batch of fermented tea.
What I found was 25-year-old Townes Mozer, Charlotte native and impressive kombucha connoisseur. On the phone, Mozer sounds like he could be brewing hallucinogenic tea with a hippie-like drawl and stoner lexicon. In person, though, he is the quintessential boy next door with tousled brown hair, signature Chacos and a hankering to brew.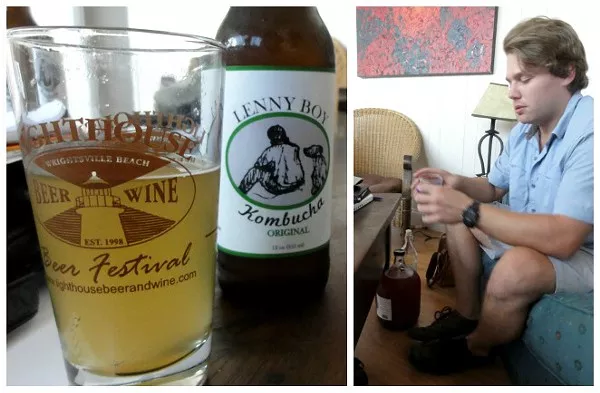 Townes began brewing kombucha, an effervescent fermented tea, five years ago after discovering it on a trip to Portland, Oregon.
"I thought, whoa, this stuff is wild!" says Mozer, who has been hooked ever since.
Before returning home, Townes was given a culture referred to as a SCOBY, symbiotic culture of bacteria and yeast, which allowed him to begin brewing his own batches. Soon after, Townes was sharing gallons of kombucha with his friends.
According to Mozer, the idea for Lenny Boy sat in the back of his mind for a couple years. After graduating from UNC-Wilmington in 2010, Mozer spent ten months living and working on an organic farm near Asheville. During that time, he attended the Appalachia School of Holistic Herbalism, which would supply him with the knowledge to create and hand-mix his own herb blends for Lenny Boy.
And who is Lenny boy? That's none other than Mozer's dog Lennox , or Lenny Boy as he is affectionately called. You can find them both on every hand-labeled bottle.
Currently, Mozer is serving up seasonal blends on tap using locally sourced herbs and produce and plans to partner with even more local, organic producers. He is now brewing 1,100 gallons a month out of his new facility in South End and wants to create a space where he can host events and give back to the community.
Mozer believes the Charlotte mentality is starting to change, which is why he set up shop here. "There are really good local products made with a lot of TLC," says Mozer, who is intent on planting the seed for a larger movement. Take that, West Coast.
Want to find Lenny Boy products? Click here for the nearest supplier.