Last October, Bernardin's Restaurant opened in the historic location of what once was the Ratcliffe Florist at 425 S. Tryon St. Since 1992, owner and executive chef Freddy Lee had wanted to relocate from New York and open a restaurant in Charlotte. When the location he wanted to purchase did not work out, he landed in Winston Salem instead. Twenty years later, after much success with Bernardin's Restaurant in Winston Salem and two additional restaurants, he finally embarked on his newest restaurant venture in downtown Charlotte.
On Friday, June 22, Bernardin's Restaurant celebrated its half-year anniversary and invited some special friends to be a part of the celebration by dining at a chef's table.
About 20 guests met in the bar area to sip La Marca Prosecco before being escorted to the elegant dining room. The elegance of the interior can be attributed to Lee's desire to maintain the character of the building, which included some renovations that took some aspects of the restaurant back to its original aesthetics when it was a floral shop.
Lee warmly greeted guests and welcomed questions about his menu and restaurant.
Wine pairings were provided by Johnson Brothers Liquor Company, who also provides many of the wines featured on their extensive wine list.
First Course:
Braised escargot with chanterelle and shitake mushrooms, herbs and garlic in a cognac sauce
Wine Pairing:
MacMurray Pinot Gris, Sonoma Coast
What the description of this small appetizer leaves out is that the delightfully rich flavors of the mushrooms and escargot are perfectly complimented by a crusty delicate twist of puff pastry.
Second Course:
Goat cheese tart with oven-dried tomato, eggplant and sautéed onion and aged balsamic glaze
Wine Pairing:
Laguna Chardonnay, Russian River Valley
The creamy richness of the goat cheese was a lovely compliment to the fresh micro greens accompanying this course.

Third Course:
Roasted Atlantic salmon with breadcrumb and horseradish crust, served with port wine sauce and roasted garlic on a bed of sautéed spinach
Wine Pairing:
Edna Valley Pinot Noir, Edna Valley, CA
Roasting this velvety salmon brought out the fish's natural butteriness.

Fourth Course:
Grilled free range bison strip loin over parsnip potato mouses, topped with roasted golden chanterelle mushrooms and bone marrow truffle butter and served with creamy spinach
Wine Pairing:
La Joya Carmanere, Colchagua Valley, Chile
The bison was cooked just perfectly until it was melt-in-your mouth tender.

Fifth Course:
Chocolate torte serve with vanilla ice cream, whipped cream, chocolate and raspberry sauces
Wine Pairing:
Louis M. Martini Cabernet Sauvignon, Sonoma
Even though there were murmurings of "Oh no, I shouldn't after such a big meal," most of the diners at the chef's table polished off nearly every bite of this decadent happy ending to the meal. Rather than serving a typical dessert wine, Johnson Brothers went in another direction and paired this sinfully dark chocolate torte with a velvety smooth cabernet to highlight both the bittersweet richness of the dessert.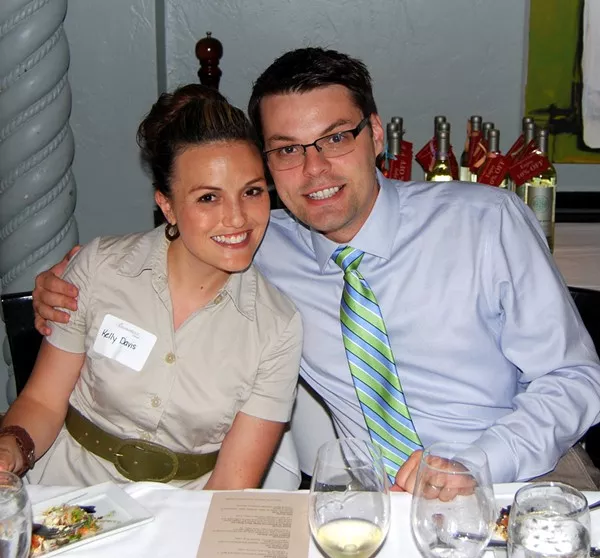 Bernardin's decadent and fresh food, outstanding service, and attention to detail made quite an impression on their dinner guests

To participate in one of Charlotte's newest upscale dining experiences for lunch or dinner, call 704-332-3188 for reservations. Bernardin's Restaurant also features a private room for events and hopes to expand to include a second private dining room in the future.
Kelly Davis is a blogger, freelance writer, food enthusiast, and native North Carolinian. When she's not training for a race or cooking something delicious in the kitchen, she's writing, reading, snuggling her dachshund, or plotting her next project. You can keep up with Kelly's antics and recipes on her blog, Foodie Fresh.