I believe in giving credit where credit is due and I cannot claim credit for this recipe. This recipe is completely my husband's through and through. It was one of the very first meals we made together five years ago when we first started dating, and I first started experimenting in the kitchen with his encouragement.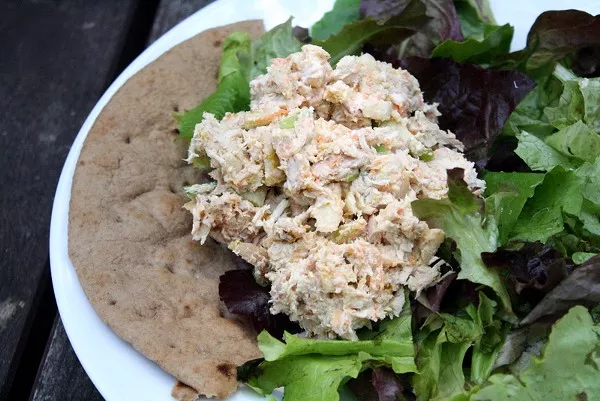 I had never eaten Thai green curry in my entire life, much less cooked with it! But I was pleasantly surprised to find that I absolutely love the taste of spicy green curry and especially love the contrasting texture and sweetness of the green apples in this recipe.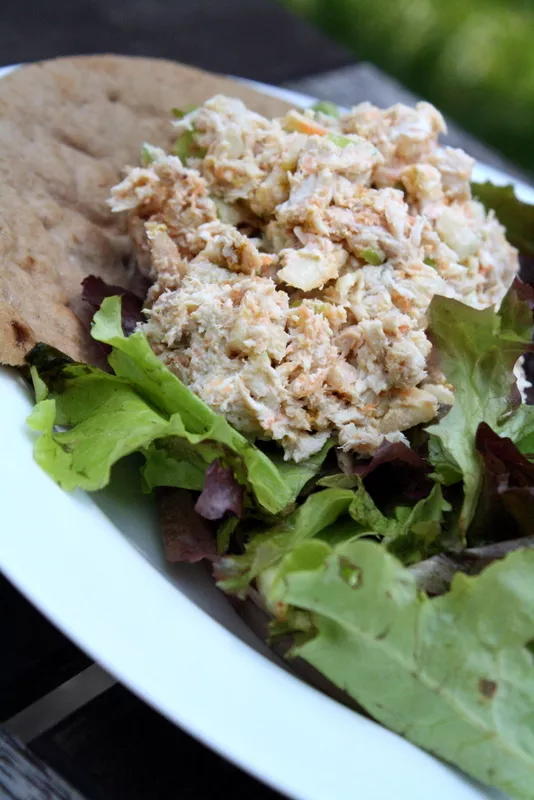 Green Curry Chicken Salad

I should be fined for my overuse of the term "simple" when referring to the recipes I make, but I swear this little dish is so very simple. You can complicate things by roasting your own chicken, but I prefer to keep it easy and purchase a pre-cooked rotisserie chicken from the grocery store.
Eat this chicken salad your favorite way - on a sandwich, in a pita, on a salad, with some crackers - whatever strikes your fancy.
Delicious on a salad or with a whole wheat pita
THAI CURRY CHICKEN SALAD
This chicken salad makes enough to feed a crowd or a hungry family for more than one meal.
1 fully cooked 1.75 lb. rotisserie chicken
3/4 cup Greek yogurt
1/2 large green apple, chopped finely
1 large carrot, grated finely
1 Tablespoon + 1/2 teaspoon Thai green curry paste
1/2 teaspoon salt*
Remove meat from chicken, removing all skin from the meat. Place skinless, boneless chicken meat in a large mixing bowl. Combine chicken with yogurt, apple, and carrot and stir well to combine. Add curry paste and stir well to combine throughout the chicken mixture. Add salt and stir well again to thoroughly combine. Taste and add more salt if desired.
*If purchasing a pre-cooked chicken, some salt has likely already been added, so add salt slowly while tasting to add enough to your liking. Remember, you can always add more, but you can't take it away.
Kelly Davis is a blogger, freelance writer, food enthusiast, and native North Carolinian. When she's not training for a race or cooking something delicious in the kitchen, she's writing, reading, snuggling her dachshund, or plotting her next project. You can keep up with Kelly's antics and recipes on her blog, Foodie Fresh.