When warm weather rolls around, I love to making fresh salsa for parties, cookouts, or just any ol' weekday dinner. The essential definition of salsa is a spicy sauce of chopped, usually uncooked vegetables or fruit, especially tomatoes, onions, and chili peppers, used as a condiment. Fruit is an especially tasty and creative way to take salsa to the next level. And since strawberries are so abundant right now, I decided to use them this week to make a sweet and savory salsa.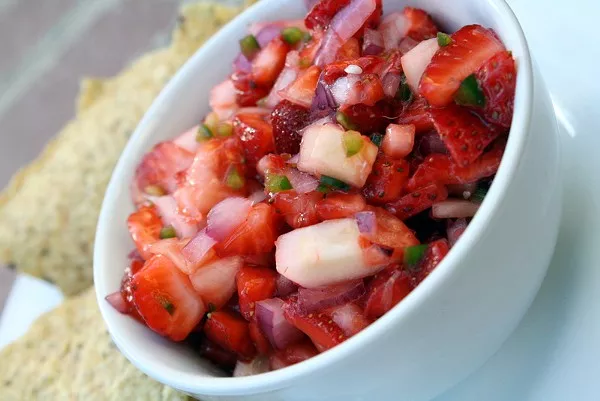 This delicious, and might I add gorgeous, salsa is a wonderful way to incorporate fruit and vegetables into your meal simultaneously. You can eat it with some tortilla chips, add it to fish tacos, or spoon it over some grilled chicken.
I was extra creative today at lunch and spooned it over a spinach salad with chickpeas and feta cheese. The options are endless!
Sweet and Savory Strawberry Salsa
STRAWBERRY SALSA
1 pint strawberries, hulled and chopped
1 large cucumber, peeled and chopped
1 medium red onion, minced
1 jalapeño, deseeded and minced
juice of 2 limes
1/2 teaspoon salt
Combine all ingredients in a large bowl and stir. Allow salsa to sit for about 30 minutes to allow flavors to marry before serving.
Serve with tortilla chips or over grilled chicken or fish.
Or eat with a spoon. I won't judge.
Kelly Davis is a blogger, freelance writer, food enthusiast, and native North Carolinian. When she's not training for a race or cooking something delicious in the kitchen, she's writing, reading, snuggling her dachshund, or plotting her next project. You can keep up with Kelly's antics and recipes on her blog, Foodie Fresh.