As soon as my husband spotted the fresh strawberries I bought at the the grocery store two weeks ago, he started dropping hints about a certain recipe I made last spring. It's delicious, decadent, and actually a healthy alternative to most desserts or sweet breakfasts.
In fact, I think you'll find that it is pretty amazing if you love strawberries as much as I do ... which is a lot.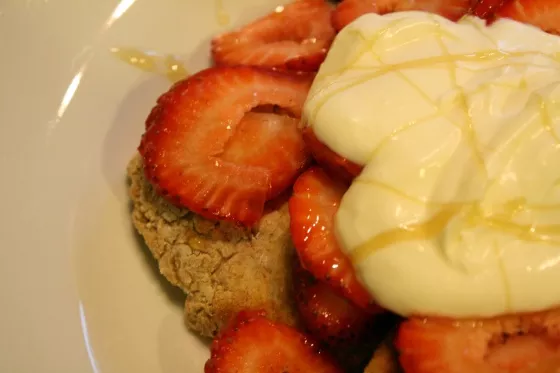 Juicy strawberries, flaky biscuits, creamy yogurt topping and a sweet honey drizzle. What's not to love?
STRAWBERRY SHORTCAKE (serves 3)
This version has less sugar, incorporates whole wheat and uses a lighter cream than most varieties. But I assure you, it's still incredibly tasty.
3 whole wheat biscuits (recipe follows)
1 pint fresh sliced strawberries
3 Tbsp. creme fraiche
1/4 cup lowfat plain yogurt
1 Tbsp. honey
WHOLE WHEAT BISCUITS (makes 9 fluffy biscuits)
My recipe is based off of this recipe.
2 cups whole wheat pastry flour
1 Tbsp. baking powder
1/2 tsp. baking soda
2 tsp. sugar
1/2 tsp. sea salt
1 cup cold salted butter, sliced into thin pieces
1 cup skim milk*
1 Tbsp. lemon juice*
Mix together dry ingredients: flours, baking powder and soda, salt, and sugar. Cut butter into thin slices and and use pastry cutter to cut the butter into the dry mixture. Continue cutting the butter until butter chunks are no bigger than a centimeter wide. (My grandmother says to do this until they look like peas.) Slowly add milk and lemon juice and mix. Try to avoid mixing to much. To avoid over mixing, I don't use a stand mix, I manually mix with a fork Turn onto a floured surface and need about five times. Work into a ball and roll out with a rolling pin until biscuits are about 1 in thick. Use a biscuit cutter to cut into about 9 biscuits. Sometimes I end up with 10, depending on how thick I left the dough when I rolled it out.
Transfer biscuits to a well greased (I used olive oil in the Misto) baking sheet. Cook at 450 degrees F for 10-12 minutes or until their tops begin to turn a golden brown.
Shortcake Assembly:
Cut three biscuits in half and plate two halves on each plate. Mix together the creme fraiche and yogurt in a bowl. Top biscuits with 1/3 of the strawberries each. Top with 1/3 of the creme fraiche/yogurt mixture. Drizzle honey evenly on each. Enjoy!
* The original recipe calls for buttermilk. I've used both buttermilk and skim milk plus lemon juice. I much prefer skim milk plus lemon juice. The consistency is more moist. On the rare occasion that I've used buttermilk, they always turn out too dry. The lemon juice makes up for the lack of acidity, which is missing when you don't use buttermilk.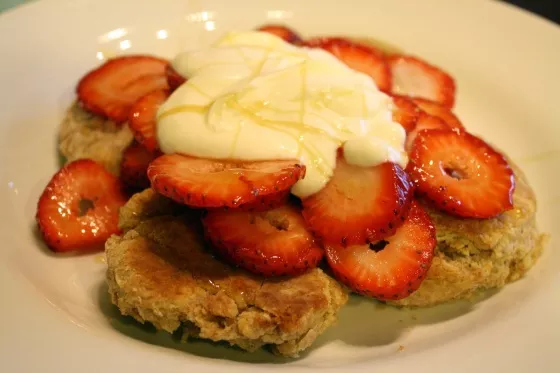 Honey Drizzled Strawberry Shortcake
This dish is perfect for breakfast or for a healthy dessert. The best part is that it's so hearty and delicious, no one will ever suspect that it's made with wholesome good-for-you ingredients.
Stay tuned for more strawberry recipes in the upcoming weeks!
Kelly Davis is a blogger, freelance writer, food enthusiast, and native North Carolinian. When she's not training for a race or cooking something delicious in the kitchen, she's writing, reading, snuggling her dachshund, or plotting her next project. You can keep up with Kelly's antics and recipes on her blog, Foodie Fresh.