St. Patrick's Day is one of those fun holidays that I don't always celebrate. Even though green is my favorite color, there have been a few years where I have completely forgotten to wear something green, although I can't recall ever being pinched.
Celebrating the holiday has gotten much more attractive as I've gotten older — mainly when I turned 21 and learned to appreciate beer. But wearing green and drinking Irish beer aren't the only ways to celebrate this holiday. Cooking an Irish dish is also a great way to salute your Irish heritage ... or at least pretend you have a bit of the Irish luck.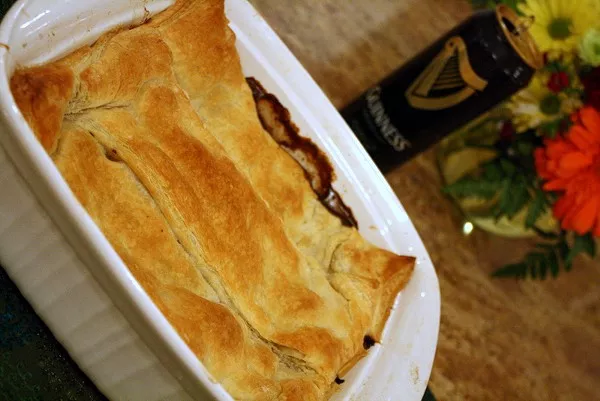 Guinness and Steak Pie is an incredibly easy Irish dish that is hearty and flavorful. This version is more like a casserole because there is no crust on the bottom.

It's a crowd-pleaser, full of meaty chunks of steak, warm Guinness gravy, and topped with a flaky buttery crust.
And, what goes better with a pint of Guinness than Guinness and Steak Pie?

GUINNESS AND STEAK PIE (serves 6)
2 teaspoons extra virgin olive oil
3 cloves garlic
1/2 large white onion
3 carrots
1 lb. stew meat
salt and pepper
1 cup sliced white mushrooms
12 oz. Guinness (1 can or 1 1/2 cups)
1/2 teaspoon ground sage
1/2 teaspoon dried basil
1/2 teaspoon dried thyme
1/2 teaspoon dried parsley
1/2 teaspoon salt
2-3 heaping Tablespoons all purpose flour
1 piece puff pastry
Preheat oven to 350 degrees F.
In a large pot, heat olive oil on medium high. Add garlic, onion and carrots and sauté until onions begin to caramelize and turning lightly brown. Sprinkle salt and pepper generously over stew meat. Add stew meat to the pot and cook, flipping frequently with a spatula until meat is fully cooked on the outside.
Add Guinness to the pot along with all herbs and spices. Turn heat to medium and allow stew to cook for 15 minutes. Turn heat to high and add 2 heaping tablespoons of flour, stirring quickly. Allow stew to cook 5-10 more minutes until stew has thickened. Add an additional heaping tablespoon of flour if stew hasn't thickened sufficiently.
Pour the stew into an 9x9 in casserole dish. Place puff pastry over the top of the casserole. Bake for 20-25 minutes or until the top of the puff pastry is golden brown.
Happy St. Patty's Day!
Kelly Davis is a blogger, freelance writer, food enthusiast, and native North Carolinian. When she's not training for a race or cooking something delicious in the kitchen, she's writing, reading, snuggling her dachshund, or plotting her next project. You can keep up with Kelly's antics and recipes on her blog, Foodie Fresh.