Last week I shared with you a plan for a simple, but impressive, Valentine's Day meal with salmon. Well, this week, I'm sharing a romantic meal for all you meat lovers out there.
When it comes to steak, typically, I can take it or leave it. The only exception is a good filet mignon. Call me picky, but It's my absolute favorite way to eat beef. And since I'm married to a beef-loving man, it is often the center piece of my cooked-at-home Valentine's Day meal.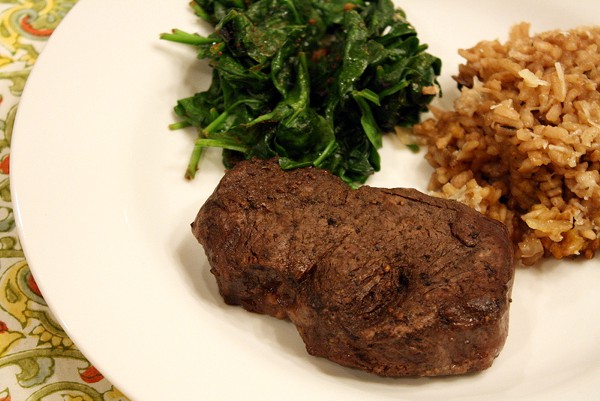 In my humble opinion, the ultimate fancy DIY meal involves filet mignon, risotto, and a hearty green vegetable. I've made this meal so many different ways over the years ...
... with creamy sauces.
... with earthy mushrooms.
... with about as many ingredients you can think to add to risotto.
But I know that all of you reading this are not just like me. The typical cook doesn't like over-complicated recipes. You probably don't find it therapeutic to stand over a pan of risotto, babysitting it, nurturing it, pour by pour of broth, for an entire hour.
I'm betting that you want something simple, so you can spend Valentine's Day with the person you love ... or at least like enough to spend a holiday.
I get you.
And just for you, I have simplified my go-to fancy meal. There's no multiple cooking methods for preparing the steak. Instead of the classic laborious approach to making risotto, you simply bake it and forget about it.
Did I mention that this meal includes an ultra classy, utterly simple dessert?
Tiramisu is one of those misnomer desserts: It sounds incredibly classy (and it is), but terribly difficult to make (but it isn't). In reality, it's a delicately sweet and elegant way to end a meal that will leave you thinking, "Is that really all there is to it?"
Menu:
- Filet Mignon in Red Wine Reduction
- Baked Red Wine Risotto
- Sautéed Spinach
- Tiramisu
Tips: Make the tiramisu earlier in the day or up to one day ahead of time.
Now, let's start with the most labor time-intensive part of the dish: the risotto.
BAKED RED WINE RISOTTO (serves 4)
1 1/2 teaspoons extra virgin olive oil
1/2 yellow onion, minced (about 1/2 cup)
1 cup arborio rice
1/3 cup red wine (see Notes)
1/4 teaspoon salt
2 cups vegetable or chicken broth
1/4 cup parmesan regianno cheese, freshly grated
Preaheat oven to 350 degrees F.
In a medium sized skillet or pan, heat the olive oil on medium heat. Add onion and sauté until onion softens and begins to caramelize, turning lightly brown. Add rice to the pan and stir, until rice becomes translucent except for a tiny white dot in the center of each grain. Add wine to the rice and stir until mostly absorbed.
Place rice mixture in a small baking dish (see Notes). Pour broth over the rice and add salt. Stir to combine. Place dish in the oven. Cook for 40-50 minutes or until broth is completely absorbed. Remove from oven. Grate cheese over the dish. Plate and serve immediately.
Notes:
I used a Sangiovese, but any dry red wine will do such as Cabernet Sauvignon or Merlot. Do not cook with any wine you wouldn't drink. lso, pour yourself a glass to enjoy while you cook. That's part of the recipe for a wonderful meal.
A 10 X 5 loaf/bread pan works excellently.

Please don't skimp on the cheese and buy anything less than a hunk of parmesan regianno.
No plain parmesan.
And especially no shredded (pre-grated) parmesan.
Use a microplane to grate if you have it, or use the finest side of your hand-held grater.
This steak comes together easy peasy. But quality of beef truly matters here. The simplicity of this recipe calls for a good cut of steak like filet mignon. You know how I feel about that; no other steak will do.
FILET MIGNON IN RED WINE REDUCTION (serves 2)
2 4 ounce filet mignons
1/4 teaspoon salt
1/4 teaspoon pepper
2 teaspoons extra virgin olive oil
1/4 cup red wine
2 Tablespoons balsamic vinegar
1 Tablespoon Worcestershire sauce
Sprinkle salt and pepper evenly over each side of both steaks. Warm olive oil in a medium sized skillet or pan. Place steaks in the pan. Cook first side for 5-7 minutes, depending on how well done you like your steak (See Notes). Flip and cook the additional side for 2-3 minutes.
In a small bowl, mix red wine, vinegar, and Worcestershire sauce. Add liquid to pan, flip steaks and cook for one minute. Flip steaks again and cook until sauce is almost completely reduced.
Notes:
Cooking time for steak really depends on the thickness of your steak and your own personal taste preference. This site is good for figuring that out. If you follow their guidelines, reduce the cooking time of the second side of your steak by 1-2 minutes to allow the additional time needed to cook in the reduction, without overcooking.
Example: I prefer medium rare and my steak was 1 1/2 inches thick. I cooked my steak for about 6 1/2 minutes (halfway between rare and medium), flipped the steak and cooked the second side 4 minutes, before adding the wine mixture. If you're uncertain, choose two equally thick steaks. Cut into the center of one slightly, without cutting all the way through and make a decision based on the "pinkness" and temperature of your steak (see below). Serve this side of the steak face down so the cut will not be visible.
Cool red center: Rare
Warm red center: Medium Rare
Warm pink center: Medium
Hot pink/gray center: Medium Well
Hot gray center: Well done

If you're unsure, always ask your date how they prefer their steak cooked. (For some reason, people always assume that women like theirs "more done," but I prefer mine medium rare, while my husband prefers his medium.)
Now, all your meal needs is a hearty green vegetable and right now I am absolutely loving spinach sautéed in a bit of butter. A little bit of butter goes such a long way in making spinach so delectably good. You have to try it to believe it.
SAUTEED SPINACH (serves 2)
12 ounces raw baby spinach
1 Tablespoon real butter
1/4 teaspoon ground nutmeg
1/4 teaspoon salt
Heat butter in a medium sized pan or skillet. Add spinach and cook until completely wilted, stirring often. Season with nutmeg and salt. Stir well to combine. Plate and serve immediately.
Now comes the best part!
Dessert!
TIRAMISU (serves 4)
2 egg yolks
4 ounces marscapone cheese
1 1/2 Tablespoons sugar
1/2 cup heavy whipping cream
1 1/2 cups triple strength coffee or espresso (see Notes)
20 lady finger cookies (see Notes)
1/2 Tablespoon unsweetened cocoa powder
With a hand held or stand mixer, mix together the egg yolks, marscapone cheese, and sugar. Add whipping cream and beat mixture on high for at least 5 minutes. Mixture should get thick enough to form peaks (dip the end of the beater in the mixture and pull out to test, continue beating until mixture is thick if necessary).
Dip 10 lady fingers in coffee for five seconds (no longer or they will fall apart). Line a small baking dish (see Notes) with the lady fingers. Cover with 1/2 of the marscapone mixture. Dip another 10 lady fingers in the coffee and layer them over the marscapone mixture. Spread the last half of the mixture over the second layer of lady fingers. Refrigerate for at least two hours.
Just before serving, sprinkle cocoa powder over the tiramisu using a sifter or fine strainer.
Notes:
For the coffee, you have several options if you don't have an espresso machine (which I do not).
1. Make triple strong coffee (use 3x the coffee grounds as normal) in a coffee maker
2. Make triple strong coffee in a French Press (my preferred method)
3. Run to your nearest coffee shop and purchase 1 1/2 cups espresso (3-4 shots) Allow to cool before using.
Lady fingers can be found in Charlotte at most Harris Teeters and during the holiday season at Trader Joe's.
My oddly shaped dish was 6 x 9 1/2 inches, but an 8 x 8 will work as well. The lady fingers might not cover the entire bottom of the dish, but this isn't necessary for success.
This dish is eaten with raw eggs. If you would like to slightly cook your eggs, whisk together eggs and sugar and heat slowly while stirring over a double boiler.
Now, doesn't that look like perfection in a bowl?
If you're looking for direction on what to drink with this meal, I always lean towards a robust red wine to go with filet mignon. I'm a big fan of Australian Shiraz and I'm also a fan of asking for help from more knowledgeable people when I need it and the staff at any wine shop can help you with that. When in doubt, go with what you know that you like. Some people try to put stuffy rules on serving wine with food, but I don't follow any rules about wine.
If you follow my simple suggestions, this meal will go off without a hitch and your date will think they have landed themselves a true chef. Trust me. I've been playing this game of deception with my husband for years.
Happy cooking and have a deceptively simple Valentine's Day!
Kelly Davis is a blogger, freelance writer, food enthusiast, and native North Carolinian. When she's not training for a race or cooking something delicious in the kitchen, she's writing, reading, snuggling her dachshund, or plotting her next project. You can keep up with Kelly's antics and recipes on her blog, Foodie Fresh.