Want to know the best way to impress your significant other this Valentine's Day? Cook. Yes, it really is that simple.
Take it from someone who fell in love over my own dining room table. Cooking for the one you love (or really like) is magical. Early in my relationship with my (now) husband, I cooked for him. Almost every night. With hardly any prior experience in cooking entire meals.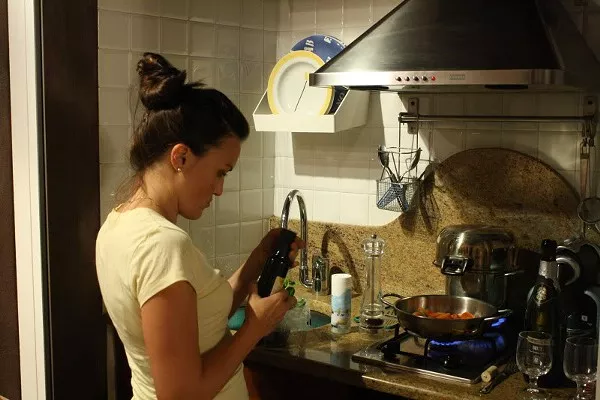 Cooking in Italy on Our Honeymoon
He was so impressed that I was willing to go to such great lengths to feed him and spent a few minutes of every one of those meals telling me how wonderful the food was ... telling me how wonderful I was.
I ate it up.
And if I can do it, you can do it, too. You don't have to be a gourmet chef or a domestic goddess to impress your date. You just need something that looks amazing, but in reality, is very simple to make.
Don't worry, I've got you covered.
I'm going to teach you how to make a complete meal that is just as beautiful as anything you would order in a fancy restaurant, but also a meal that anyone can cook. The ingredients and preparation methods are simple — dare I say, easy? — and you can totally do this.
Just follow my directions and you're well on your way to making your Valentine's Day date think that you're an amazing cook.
Your Valentine's Day Menu
Maple Dijon Salmon with Roasted Sweet and Yellow Potatoes and Green Beans Almondine.
For Dessert:Death by Chocolate Mousse with Whip Cream and Strawberries
Tips for seamless cooking:
- Make the chocolate mousse up to one day ahead of time (without the whipped cream topping or strawberries) and refrigerate in a sealed container. Add toppings just before serving. If making homemade whip cream, prepare it ahead of time too and store in a separate sealed container.
- Prepare the potatoes before the other savory dishes. Once the potatoes are baking, prepare the salmon while you wait.
- Heat the water for your green beans just before you start preparing the salmon. The water will boil while the salmon is cooking. Add the green beans and continue on with the salmon. This way, all the dishes should be complete at about the same time.
- Look for tips to keep your dishes warm in the Notes section at the end of each recipe.
ROASTED SWEET AND YELLOW POTATOES (serves 4-6)
Unlike the rest of the dishes in this menu, you'll have leftovers with this dish. But the extra potatoes are necessary for the beautiful presentation.
1 1/2 pounds sweet potatoes
1 1/2 pounds yellow potatoes
2 teaspoons extra virgin olive oil
1 teaspoon salt
3 Tablespoons fresh sage, chopped finely
1/4 cup parmesan cheese, grated finely
Preheat oven to 400 degrees F.
Slice potatoes into rounds as thinly and uniformly as possible. Put potatoes in a large bowl. Pour oil over the potatoes and stir well so oil is mixed throughout the potatoes. Sprinkle salt over the potatoes and stir well once more.
Arrange potatoes in a small baking dish (a round dish works best for presentation). Arrange potatoes on their side against the dish (like dominoes that lean against each other), alternating the type of potato each time (sweet, yellow, sweet, yellow). Use your hand to hold the potatoes in an upright position until you have enough that they'll stay up on their own. Continue stacking the potatoes until you go around the perimeter of the dish. Fill in the hole in the middle of the dish in the same way (refer to the photo of potatoes in their baking dish).
Sprinkle sage over the potatoes. Cook potatoes for 35-40 minutes or until potatoes are tender. Remove from oven and sprinkle Parmesan cheese over the potatoes. Serve immediately.
Notes: You can test whether the potatoes are done by carefully removing one of the potato slices and piercing with your fork. If it is tender, it is ready. If potatoes are done before the rest of the meal, lower your oven's heat to 200 degrees (or lower) and leave in the oven for up to 15 additional minutes.
MAPLE DIJON SALMON (serves 2)
1 teaspoon extra virgin olive oil
8 ounces (1/2 pound) Wild Caught Salmon Fillet
1/4 teaspoon salt
1/4 teaspoon pepper
2 Tablespoons real maple syrup
3 Tablespoons soy sauce
1 Tablespoon Dijon mustard
1 teaspoon garlic powder
Heat oil in a skillet or pan on medium heat. Sprinkle both sides of salmon with salt and pepper. If using one large fillet, slice into two fillets with a sharp knife before cooking. Place salmon in pan. Cook for about 3 minutes on one side or until flesh turns a deep salmon pink and firms.
While salmon is cooking, whisk together your maple dijon glaze by combining syrup, soy sauce, mustard, and garlic powder in a medium sized bowl. Stir well.
When one side of salmon is cooked, flip the salmon over and pour half of the sauce over the cooked side of the salmon.
Continue cooking salmon until the remaining side is cooked through (about 3-5 minutes).
Plate and split the remaining sauce between the two servings, pouring slowly over each piece of salmon. Serve immediately.
Notes: If salmon is finished before you are ready to serve, plate both pieces of salmon on one plate, cover with aluminum foil to retain the heat. Just before serving, test the temperature of the salmon with your finger. If not warm enough, place in a hot oven for no more than five minutes to reheat. Plate salmon in individual plates and follow the rest of the directions as written.
GREEN BEANS ALMONDINE (serves 2)
6 ounces French green beans
1/4 teaspoon salt
1/4 teaspoon pepper
Juice of 1/2 lemon (about 3 Tablespoons)
3 Tablespoons slivered almonds
Fill a medium sized pot 3/4 full with water. Bring water to a boil on the stove top. Add green beans to the water. Lower heat of the stove if water is in danger of boiling out of the pot. Cook green beans for 5-8 minutes depending on your preference for the texture of your green beans (5 minutes for green beans with a bite, 8 minutes for tender green beans).
Once green beans are cooked, drain water from green beans by pouring the contents of the pot into a collendar over the sink. Place green beans back into the hot pot. Pour lemon juice over the beans and stir. Sprinkle with salt and pepper and stir once more.
Plate green beans, sprinkling half the almonds over each serving.
Notes: French green beans or Haricot Verts are more slender and elegant than regular green beans. You can use regular green beans if French green beans aren't available, but be sure to remove any stems from the end of the beans. If beans are ready before the meal is ready to be served, do not strain them. Once they have cooked, turn off the heat and remove from the hot burner. Let green beans sit in the water until you are ready to serve, then proceed to straining them following the rest of the directions as is.
Now for the really impressive part: Dessert!
I just love chocolate mousse a) for its decadence and b) for its fool-proof recipe. If you've never made chocolate mousse before, you're going to be shocked at how simple it is to make. My recipe has only three ingredients (sans toppings). How easy is that?
DEATH BY CHOCOLATE MOUSSE (serves 2)
2 ounces good quality unsweetened baking chocolate (Recommended: Ghiradelli's)
4 ounces (1/2 cup) whipping cream
3 - 4 Tablespoons sugar*
Chop chocolate roughly and place in a small pot over the stove. Heat burner on medium. Watch chocolate carefully, stirring often so it does not burn.
While chocolate is melting, pour whipped cream in a medium bowl. Use a whisk or mixer to whip whipping cream until frothy (about 3 minutes).
Once chocolate is completely melted, pour into whipping cream. Use a rubber spatula to get all of the chocolate from the pot. Continue whisking until chocolate and whipped cream mixture is thick like icing.
Stir in 3 tablespoons of sugar. Once completely mixed, taste a small amount to determine if you want more sugar. Add another 1/2 tablespoon and taste again, adding another 1/2 tablespoon (up to 4 total) if preferred.
(People who prefer dark chocolate will be happy with 3 Tablespoons.)
Toppings:
Whipped Cream (homemade or prepared)
Strawberries
Note: If you want to make your own whipped cream, pour an additional 4 ounces (1/2 cup) of whipped cream in a medium bowl. Whisk until thick and creamy (about 3-5 minutes). Add 1 Tablespoon of sugar and stir well to combine.
Serve in an impressive dish like a martini glass or a vintage china tea cup. Top mousse with whipped cream and a strawberry.
Don't forget the best perk of being the cook ...
You get to lick the whisk!
Make the evening more special with:
Candles
Flowers (even just one rose)
His/her favorite romantic music
Dim lighting
Cloth napkins
Tablecloth
Wine or Champagne
If salmon isn't your thing, come back to Eat My Charlotte next week and I'll teach you how to make a simple, but impressive meal with filet mignon.
Kelly Davis is a blogger, freelance writer, food enthusiast, and native North Carolinian. When she's not training for a race or cooking something delicious in the kitchen, she's writing, reading, snuggling her dachshund, or plotting her next project. You can keep up with Kelly's antics and recipes on her blog, Foodie Fresh.