This pistachio cake is more of a humble tea cake rather than a show-stopping, fine-crumbed, moist birthday cake.
But despite the lack of luscious layers of cake and frosting, and being diminutive in stature, the flavors are big and impressive.
The nutty flavor from roasted pistachios is accented by a dash of cardamom spice, giving the cake an Indian flair. Served with a dollop of raspberry-flavored whipped cream and a dusting of ground pistachios, you've got a unique and exotic cake perfect for afternoon tea.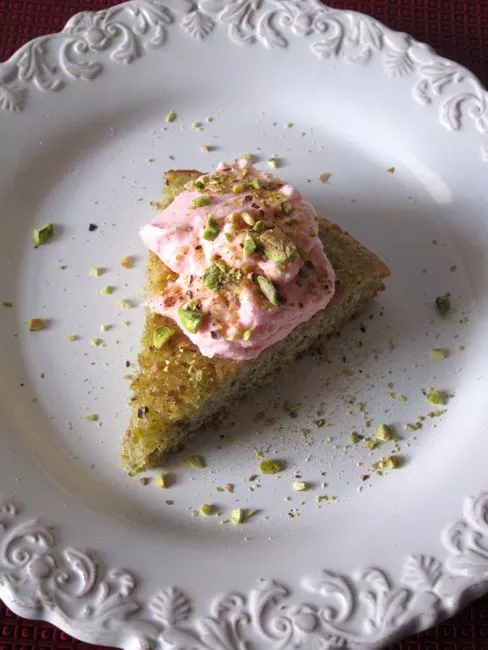 The recipe comes from Epicurious.com. Get the recipe here. Following other bakers' advice, I decreased the amount of pistachios to 1 cup, decreased the butter to 1 stick, and decreased the sugar to 3/4 cup.
I thought the resulting cake was perfectly sweet, though a tiny bit dry – next time I'll add a bit of the butter back in.
To make the raspberry whipped cream: whip fresh heavy whipping cream, add sugar to taste, flavor with a drop of raspberry extract, and color it with a teeny amount of red food coloring.