I've really overdone it this time. Oopsie daisy.
I've created a giant pastel-colored sugar monstrosity that contains ingredients that should probably be kept a secret. This crackcorn, I mean popcorn, needs to be pawned off ASAP. (Thanks, co-workers, for sharing this guilty pleasure with me.)
I first laid eyes on this caramel popcorn recipe while perusing FoodGawker.com. It was just so cute with the pretty colors, the sprinkles, the white chocolate drizzle, I couldn't stop thinking about it for days.
So I just gave it and made the darn thing ... with one cup of butter, two cups of brown sugar and everything else.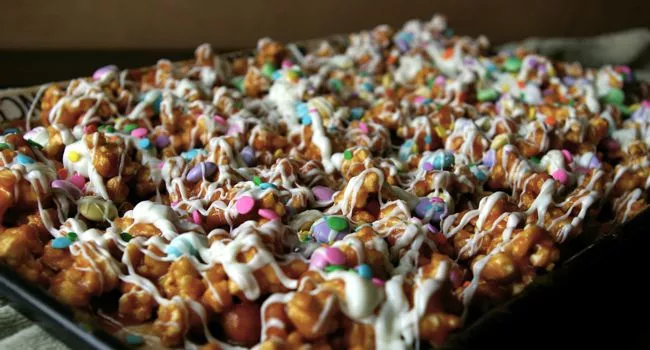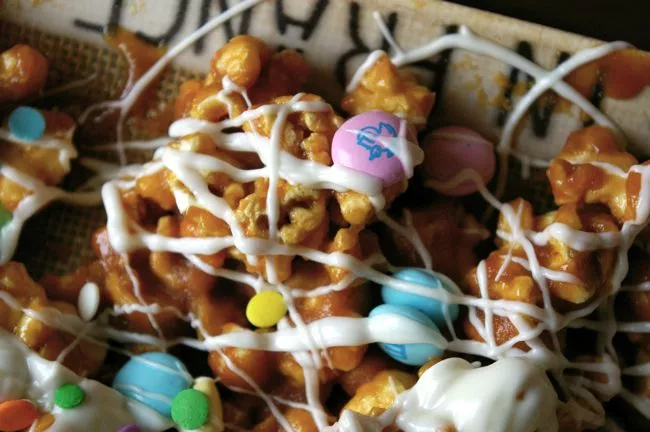 The recipe comes from the blog "Heather Cristo Cooks." She does a great job photographing the entire process. Check out her blog for step-by-step photos.
You could wrap the Easter Caramel Popcorn in little cellophane bags and tie them up with ribbons to make cute Easter treats for kids. (Hey, a little popcorn is a lot healthier than a giant chocolate rabbit, right?)
Tips: I used a bag of microwave popcorn instead of popping my own from scratch, which made it a snap to make. Also, you might want to use a large rimmed cookie sheet or perhaps two sheets because the caramel tends to bubble up and overflow over the edges while baking. To get my finished popcorn to crisp up, I stored it in the fridge.
Easter Caramel Popcorn
Adapted from Heather Cristo Cooks
Ingredients:
8-10 cups of popped popcorn (1 bag of microwaved popcorn)
1 cup roasted, salted peanuts
1 cup butter
2 cups brown sugar
½ cup corn syrup
1 tsp salt
2 tsp vanilla
1 tsp baking soda
1 cup Easter M&Ms
1 cup white chocolate chips
sprinkles
Directions:
Preheat the oven to 250 degrees. Spread the popcorn and the peanuts out on a sheet pan fitted with a silpat or a piece of parchment paper.
Combine the vanilla and baking soda in a small bowl. Set aside.
In a medium pot, add the butter, sugar, corn syrup and salt and heat them over medium heat. Cook and stir until everything is melted and bubbling. After mixture comes to a boil, stop stirring and let cook for another 4 minutes.
Remove the pot from the heat, add the vanilla and stir until well combined. Immediately pour the caramel onto the popcorn. Stir well with a heatproof spatula.
Bake in the oven for about 30-40 minutes, stirring every 10-15 minutes.
When you remove the pan from the oven, immediately sprinkle the M&Ms over the popcorn.
Melt the white chocolate in the microwave and use a fork to drizzle it over the popcorn, peanuts and M&Ms.
While the chocolate is soft, sprinkle everything with pastel sprinkles.
Let the popcorn and chocolate set up and cool. Break the popcorn into chunks and serve.