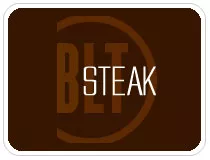 BLT Steak is celebrating its birthday on March 3, the birth date in 2004 of the original BLT Steak in Manhattan. Visit the BLT at the Ritz here in Charlotte this Thursday to get special birthday deals like filets, rib eye and New York strip steaks, Dover sole and signature blackboard main courses for a special price of $33.04.
They'll also have special prices for sides, desserts and cocktails, too. Sides like jalapeño mashed potatoes, creamy spinach and Hen of the Woods mushrooms, will be $3.03 instead of their normal $8-$10, and signature cocktails, regularly $14-$15, also will be $3.03. Desserts like peanut butter chocolate mousse with banana ice cream and crêpe soufflé with passion fruit sauce will be $3.03, also reduced from $10. Prices are for both lunch and dinner.
BLT Steak Charlotte
The Ritz-Carlton Charlotte
110 N. College Street
Charlotte, N.C., 28202.
704-972-4380