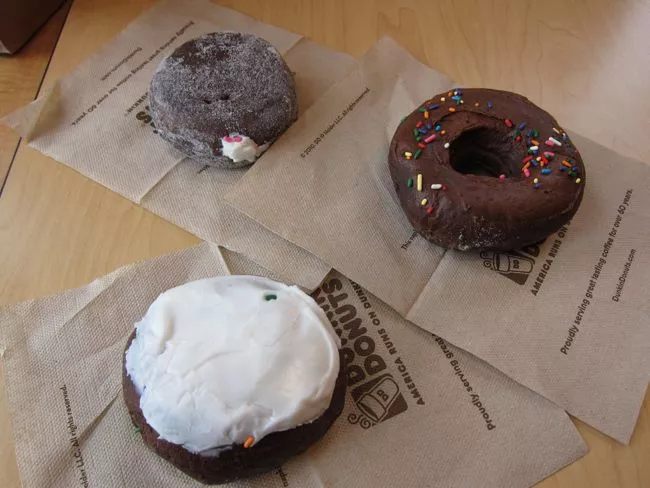 Dunkin' Donuts has recently rolled out a line of yeast-raised cocoa donuts just in time for Valentine's Day. The three new donuts are: Cocoa Confetti, Cocoa Kreme Puff, and the Cocoa Reverse Boston Kreme.
I stopped by the Dunkin' Donuts store on Graham Street and took one for the team by sampling all three donuts for you, so you don't have to.
First up: Cocoa Confetti
This chocolate donut has a dry, bread-like texture, no fillings, and some glaze on top. The flavor is slightly chocolate-y, but not enough to be satisfying. It has that bitterness of chocolate, but much else. The glaze on top tastes like buttercream chocolate frosting. The sprinkles weren't evenly applied.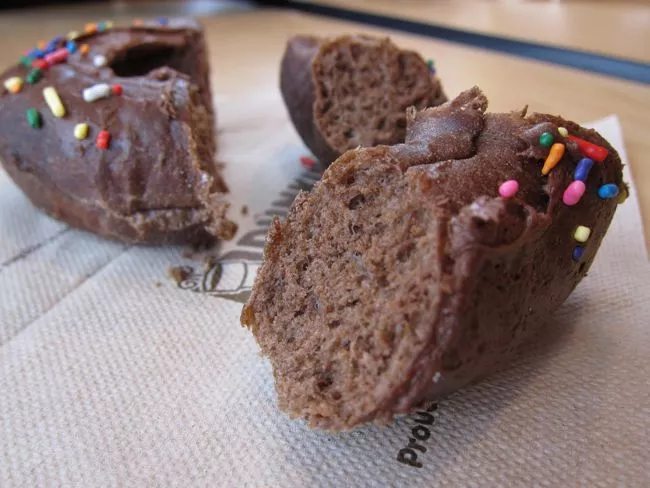 Cocoa Kreme Puff
This one might be the best out of the bunch. The Cocoa Kreme Puff has the same bready dough as the previous donut, but doesn't taste as dry, with a better bite and chew due to the center containing a good poof of frosting-like vanilla cream. The donut is coated in superfine sugar, which isn't as cloying as the other frostings, but overall, it was still too sugary for me.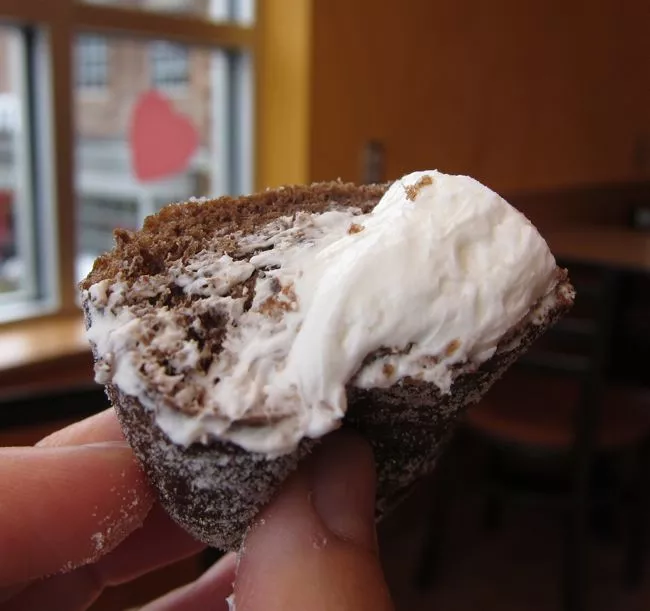 Cocoa Reverse Boston Kreme
This one was my least favorite. The Reverse Boston Kreme donut is a chocolate donut filled with a gelatinous chocolate filling and frosted with a sugary glaze that overloads the donut with sugar. The slightly translucent chocolate filling was very unappetizing the way it jiggled slightly. The filling was in no way creamy. One bite was enough for me to put it down and not touch it again.
Overall, I wouldn't recommend any of these donuts. Stick with the original chocolate glazed cake donut or any of their other original donuts. These new cocoa donuts have minimal chocolate flavor, unappetizing fillings, and way too much sugar.
Check out the carnage: