Ok, as promised, we will now return to our normal programming of ... unhealthy sweets.
A few weeks ago I shared a recipe for healthy granola. This week it's back to my usual cavity-causing, calorie-laden baked goods.
You're welcome.
I found a recipe for pretzel toffee on Serious Eats, and kicked it up a few notches by adding bits of crisp bacon. The bacon and pretzel toffee combined with a layer chocolate and a dusting of fleur de sel (sea salt) will satisfy that sweet/savory craving. It's crisp, creamy, crunchy, and so delicious.
The bacon gives the candy a slight smoky flavor and another layer of saltiness. Two meat lovers have sampled this stuff so far and both gave it a big thumbs up.
Be careful when boiling the butter and sugar mixture. Once it reaches 200 degrees, it will cook fast. Be sure to stand by and keep an eye on it. I'll admit I burned my first batch. Kitchen fail...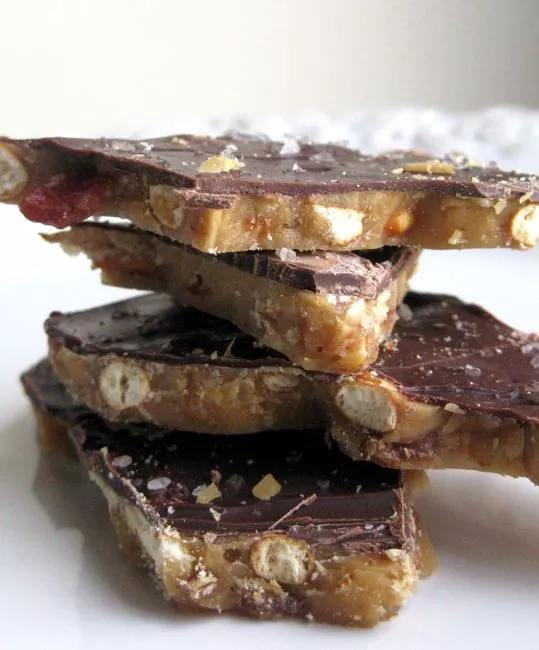 Bacon and pretzel toffee
Adapted from Serious Eats
Makes 1 pound
Ingredients:
1/2 cup (1 stick) unsalted butter
1 1/4 cups granulated sugar
1 tablespoon light corn syrup
1/4 teaspoon salt
1/4 teaspoon baking soda
1/2 teaspoon vanilla extract
1 1/2 cups crushed thin pretzel twists
4 slices of bacon, cooked and crumbled
1 cup semisweet chocolate chips
1 teaspoon fleur de sel or other flaky sea salt
Directions:
1. Line baking sheet with parchment paper. Set aside. Combine butter, sugar, corn syrup, salt, and two tablespoons water in medium-sized heavy saucepan. Clip candy thermometer to side of saucepan. Cook over medium heat, stirring as little as possible, until thermometer reaches 300ºF (hard crack stage), about 10 minutes.
2. Remove saucepan from heat and immediately stir in baking soda and vanilla extract. Stir in crushed pretzels and bacon. Quickly pour toffee onto prepared baking sheet, spreading it as thinly and evenly as possible.
3. Let toffee cool slightly until it just begins to harden, about 3 minutes. Sprinkle toffee evenly with chocolate chips. Let it stand until chocolate has melted, about two minutes. Using a spatula, spread chocolate evenly over toffee. Sprinkle chocolate with fleur de sel.
4. Transfer baking sheet to refrigerator until chocolate has hardened, about 1 hour. Break toffee into large shards. Store in airtight container on counter top or in refrigerator for up to three weeks.