A simple white cake can be transformed into something fun with a few drops of extract and some decorative dots of frosting.
For a child's birthday cake, I'd say it's OK to use food colorings and whimsical decorations. But for a "grown-up" cake, I try to keep it elegant, but still fun. I think it's best to stay away from artificial colors and cheesy decorations.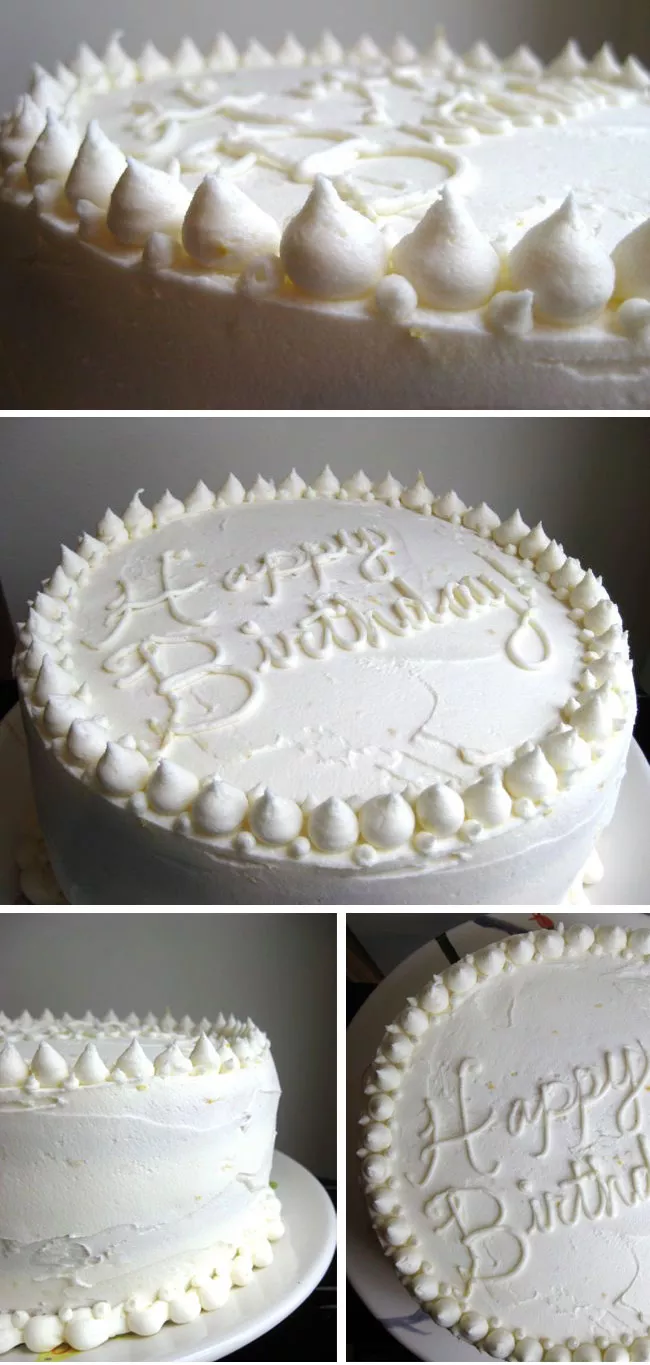 Here I've done a white on white cake – the white piped frosting decorations are done on a canvas of white frosting. The cake itself is a three-layered almond white cake, layered with raspberry jam and lemon buttercream.
It sounds more complicated than it really is.
Just take any white cake recipe and flavor it with a teaspoon or so of almond extract. Make a plain vanilla buttercream and kick it up a notch with a pinch of fresh lemon zest. Once the cake layers are cool, spread on some warm raspberry jam, then pile on a layer of the buttercream. Repeat for each layer, and then cover the entire cake with buttercream. For the little frosting dots, I used two different sized round Wilton decorating tips.
Using one color of frosting makes life so much easier. Frosting is the bane of my existence. In the process of whipping up batches of frosting, I always end up getting powdered sugar in every single crevice of my kitchen and all over the floor (which the dog has a field day with). The buttery frosting then somehow ends up on every sink knob, drawer pull, and refrigerator door which makes it a beast to clean up. Needing to make only one color and prepping one bag of frosting minimizes the mess.
Though monotone, the cake is still impressive due to its tall stature and the multi-layered fillings are a fun surprise when the cake is cut.
You  can use any white cake recipe, but here's the one I used:
White Cake
1 box white cake mix (I use Duncan Hines Moist)
1 cup all-purpose flour
1 cup granulated sugar
¾ tsp salt
1 1/3 cups water
2 Tbs vegetable oil
1 tsp pure vanilla extract (* IN ADDITION, ADD 1 TSP ALMOND EXTRACT)
1 cup sour cream (use regular or light)
4 large egg whites
1. Preheat oven to 325°F. Grease, flour, and line three cake pans with parchment or wax paper, cut to size.
2. In a large bowl, whisk together cake mix, flour, sugar and salt. Add remaining ingredients and beat with hand mixer for 2 minutes, or until well blended.
3. Bake cakes for 20-24 minutes, or until a toothpick comes out clean when inserted into the middle of each cake.