Charlotte bakers gathered at the Ballantyne Hotel & Lodge to compete in the 3rd Annual Ultimate Cupcake and Cookie Challenge on Sunday afternoon, Dec. 19.
Open to both amateur and professional bakers, contestants brought their best cupcakes and/or cookies to the competition in hopes of impressing the judging panel, which consisted of the culinary and hospitality team at Ballantyne Hotel & Lodge.
Entries were to be completely homemade (no boxed or pre-packaged products allowed), baked at home, and then presented with care at the competition. Items were judged on taste and presentation. The grand prize for each category was an overnight stay in a Parlor Suite with breakfast in bed.
I entered the cupcake portion of the competition, making this my first baking competition. Whoa. I had no idea what I was in for.
Competition was fierce. My fellow bakers are extremely talented and creative - just check out some of my photos below. As I set up my display, I was a little intimidated by others' elaborate table displays with holiday lights, cupcake trees, props, ornaments, tinsel, sparkley table cloths and pretty display plates.
My display at the Cupcake Challenge.
Teams of judges walked around and sampled each item. Contestants had to explain what their entry was and how it was made.  Using plastic spoons, judges silently sampled a bite from each and kept a straight face, not giving away any inklings whether they liked the cupcake or not. After roughly two hours of tasting and deliberation, the judges were ready to announce the winners.
Congratulations to first place winner, Wendy Rickard and second place winner, Mariza Zeibert!
Who took third place?
I'm proud to say it was me. I was able to bring home the 3rd place ribbon with my cupcake concoction: An intense dark chocolate cupcake with a chocolate peppermint ganache filling, vanilla buttercream with crushed candy canes, and a white chocolate snowflake.
Ah... the sweet taste of victory. Ecstatic about my first competition win, I'm already thinking about my entry for next year's contest. 
21 slides
A few photos from behind the scenes:
Each snowflake had to be piped quickly before the chocolate hardened.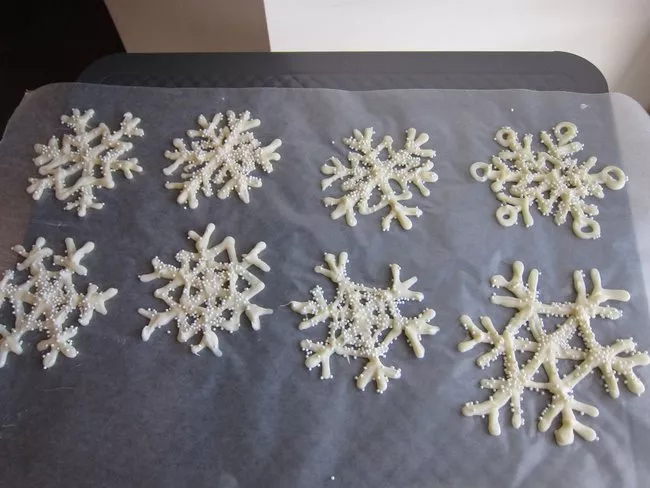 My tray of piped snowflakes, sprinkled with non pareils.
My kitchen explodes cupcakes and frosting.