See ya, my old vanilla cupcake recipes. It's official. We are breaking up. I've found someone else ... Magnolia Bakery's vanilla cupcakes.
I've finally tried Magnolia Bakery's vanilla cupcake recipe. Reviews online for Magnolia's cupcake recipe are all over the place. Some say it's the worst ever, others say it's amazing. Well, I had to see for myself.
I'm giving these a big stamp of approval. The texture of the cake is dense, tender, holds up well under frosting, and is the perfect canvas for any type of cupcake. The directions are simple and not fussy (I can't deal with drama). Although the recipe calls for self-rising flour (which I do not keep on hand), I was able to make my own SRF and we've settled our differences. All is well.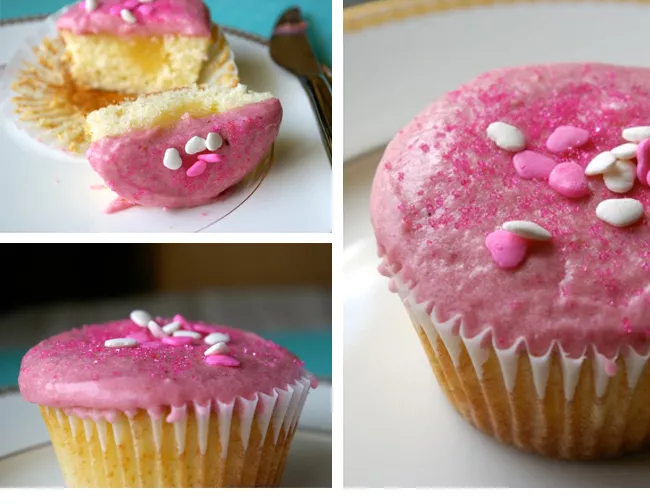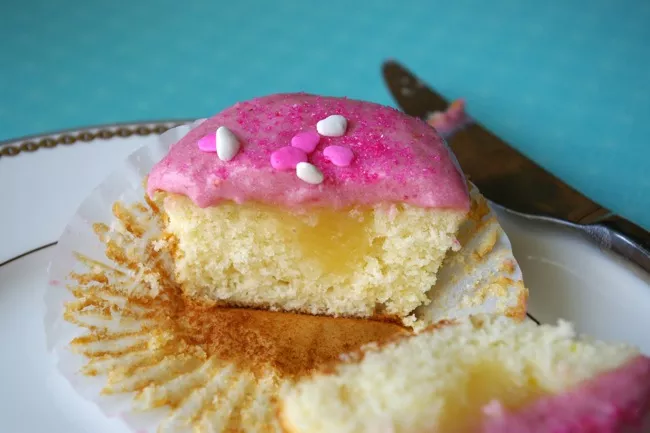 Here, I used the vanilla cake base and added lemon zest to make lemon cupcakes. Though the hint of citrus in the cake is light, you'll get a surprise in the center of each cupcake ... a bite of creamy tart lemon curd.
For the frosting, I used a raspberry mascarpone frosting. Though it tastes pretty good with these cupcakes, I'd definitely consider using a different frosting next time. This one came out soft and un-pipeable. I love frostings that are thick and fluffy, and that pipe out into voluminous clouds on top of cupcakes.
Now that I've found the ultimate cupcake recipe, I should probably settle down and take a break from testing the cupcake waters, eh? I guess it has been cupcake madness recently...
Magnolia Bakery's Vanilla Cupcakes with Lemon Curd Filling
*My notes are in parenthesis
Ingredients
1 1/2 cups self-rising flour (I made my own: Add 1 1/2 teaspoons baking powder and 1/2 teaspoon of salt for per cup of all-purpose flour)
1 1/4 cups all-purpose flour
1 cup (2 sticks) unsalted butter, softened
2 cups sugar
4 large eggs, at room temperature
1 cup milk (I used whole milk)
1 teaspoon pure vanilla extract
(zest from 1 lemon)
(1 jar lemon curd)
Directions
Preheat oven to 350 degrees. Line two 12-cup muffin tins with paper liners; set aside. In a small bowl, combine flours; set aside. In the bowl of an electric mixer fitted with the paddle attachment, cream butter until smooth and creamy. Gradually add sugar, beating until fluffy, about 3 minutes. Add eggs, one at a time, beating well after each addition. Add dry ingredients in 3 parts, alternating with the milk and vanilla, and scraping down sides of bowl in between each addition; add in lemon zest; beat until ingredients are incorporated but do not overbeat.
Divide batter evenly among liners, filling about three-quarters full. Bake, rotating pan halfway through, until a cake tester inserted in the center comes out clean, 20 to 25 minutes.
Transfer to a wire rack to cool in tins for 15 minutes. Remove cupcakes from tins, and cool completely on rack. Once cupcakes have cooled, cut out holes in the middle of each cupcake. Fill holes with lemon curd, and then frost with raspberry mascarpone frosting.
Makes about 2 dozen cupcakes.
Raspberry Mascarpone Frosting
Ingredients
1/4 cup softened butter
1 8 ounce container mascarpone, at room temperature
1/2 cup fresh raspberries, pureed
2 tablespoons raspberry jam
4-5 cups powdered sugar
Directions
Cream butter and cream cheese in an electric mixer until soft and fluffy, about 2 minutes.
Add the raspberries and jam. Mix until combined.
Add the powdered sugar, 1 cup at a time until the frosting has the sweetness and consistency you desire. If your frosting is not stiff enough to pipe, add more powdered sugar.
Use right away, or refrigerate until ready to use.