Gimme s'more of these cupcakes.
There are a variety of "s'more cupcakes" floating around the web on food blogs here and there. Most use a chocolate cake base and a meringue frosting, which is then toasted brown with a blow torch.
Too cheap to purchase a $30 blow torch, I've designed my own version of a s'more cupcake with a marshmallow fluff buttercream, graham cracker cake base, and chocolate filling in the middle (see diagram below).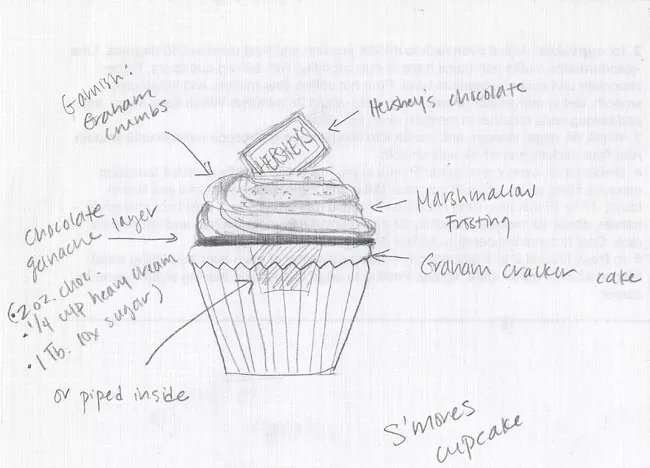 What's unusual is the cake part doesn't use any flour. In place of flour, the recipe calls for graham cracker crumbs. This imparts the graham-y flavor to the cupcakes.
Once baked, I cut little divots into the middle of each cupcake using a small paring knife, then filled the holes with chocolate ganache, like so:
The frosting took me two tries. First I tried an egg white-based frosting, but it turned out strange and foamy. Only after piping it on all the cupcakes, did I decide that I hated it and scraped it all off. Cupcake crisis!
Starting over, I went with a new frosting – this time making a buttercream with marshmallow fluff. This was so much better. Marshmallowy, fluffy, smooth, and creamy, this frosting is amazing.
To finish them off, I topped each with graham cracker crumbs, and a square of the iconic Hershey's chocolate bar.
Graham Cracker Cupcakes
Makes 24 cupcakes.
Ingredients:
2 cups graham cracker crumbs
2 tsp. baking powder
¼ tsp. salt
3 large eggs, separated
8 tbsp. unsalted butter, at room temperature
1 cup sugar
1 tsp. vanilla extract
1 cup milk
1 recipe Chocolate ganache
1 recipe Marshmallow fluff buttercream
Directions:
Preheat the oven to 350° F.  Line 24 muffin tins with paper liners. In a medium bowl, combine the graham cracker crumbs, baking powder and salt; stir together and set aside.
In the bowl of an electric mixer fitted with the whisk attachment, beat the egg whites on medium-high speed until soft peaks form.  Transfer to a separate bowl and set aside.  Replace the mixer bowl and fit with the paddle attachment.  Cream together the butter and sugar and beat on medium speed until light and fluffy, about 2 minutes.  Mix in the egg yolks until well combined.  Stir in the vanilla extract.
Add in the dry ingredients alternately with the milk on low speed, beginning and ending with the dry ingredients and mixing just until incorporated.  Using a rubber spatula, fold in about a third of the egg whites to lighten the batter.  Gently fold in the remaining egg whites until completely incorporated.
Divide the batter evenly in tins, about 2/3 full.  Bake the cupcakes for about 15 minutes or until a toothpick inserted in the center comes out clean.  Allow the cakes to cool in the pans for about 5-10 minutes, then let cool completely.
Once cool, cut divots into the middle of each cupcake (be sure not to cut all the way down to the bottom though). Fill with chocolate ganache. Frost with the marshmallow fluff buttercream and then garnish with graham cracker crumbs and chocolate.
Chocolate ganache
Ingredients
2 oz. semi-sweet chocolate
1/4 cup heavy cream
1 tbsp. confectioner's sugar
Directions
Combine ingredients in a microwave-safe bowl. Microwave on high for 20-30 seconds. Whisk together until smooth. Chill in refrigerator until ready to use.
Marshmallow fluff buttercream
Ingredients
1 cup (2 sticks) butter
1 (7 oz) jar marshmallow creme
3 cups confectioner's sugar
1 tbsp. milk
Directions
Beat butter until fluffy. Beat in marshmallow creme until incorporated.
Add sugar and beat until fluffy (3-5 min). If needed, add milk to get desired consistency.