It must be the end of the world. I gave my KitchenAid mixer a rest and actually made something that doesn't require beating butter and at least 1 cup of sugar.
This spicy baked shrimp is an easy summer meal. Just marinate, pop it in the oven and you're done. A short ingredient list makes it easy to put together. The biggest pain in the butt was shelling and de-veining the shrimp.
Seasoned with Cajun spices, cayenne and soy sauce, it's pretty spicy (and salty too), so be sure to serve it with lots of crusty bread or even over pasta. The sauce sopped up with bread is the best part.
For a twist, I added some crumbled blue cheese on top and it was pretty good. I guess it has the same effect as eating hot wings with blue cheese dressing. Next time I might make a "creme fraiche" type sauce using blue cheese and sour cream to drizzle on top.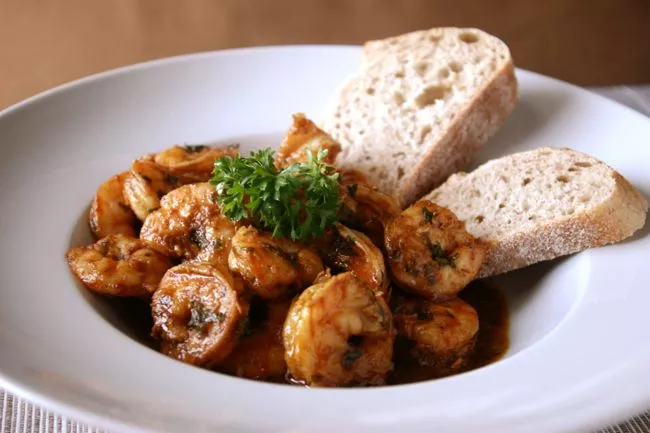 Spicy Baked Shrimp
Courtesy of Bon Appétit
Yield: Serves 4
Ingredients
1/2 cup olive oil
2 tablespoons Cajun or Creole seasoning
2 tablespoons fresh lemon juice
2 tablespoons chopped fresh parsley
1 tablespoon honey
1 tablespoon soy sauce
Pinch of cayenne pepper
1 pound uncooked large shrimp, shelled, deveined
Lemon wedges
French bread
Directions
Combine first 7 ingredients in 9x13-inch baking dish. Add shrimp and toss to coat. Refrigerate 1 hour.
Preheat oven to 450°F. Bake until shrimp are cooked through, stirring occasionally, about 10 minutes. Garnish with lemon wedges and serve shrimp with French bread.