With Easter around the corner, I figured a holiday-appropriate recipe would be nice.
There are various reasons as to why there is a cross of icing painted atop of each bun, but being an Easter food, I'm going with the reason that says the cross honors Good Friday, also known as the Day of the Cross.
The buns are made of a slightly sweetened dough, with a sprinkling of cinnamon and studded with currants. I used the dough setting of my bread maker to mix, knead, and rise the dough.
Once out of the bread maker, I found the dough to be rather sticky so I worked in a few extra tablespoons of flour to get it to a workable tackiness. After forming the 12 buns, you let them rise 35 minutes or so until they double in size. Then pop them in the oven for 20 minutes. (Your kitchen will smell pretty freaking amazing at this point.) Once fully cooled, spoon the icing over the buns to make the crosses.
To eat, re-heat them and slather on a pat of butter.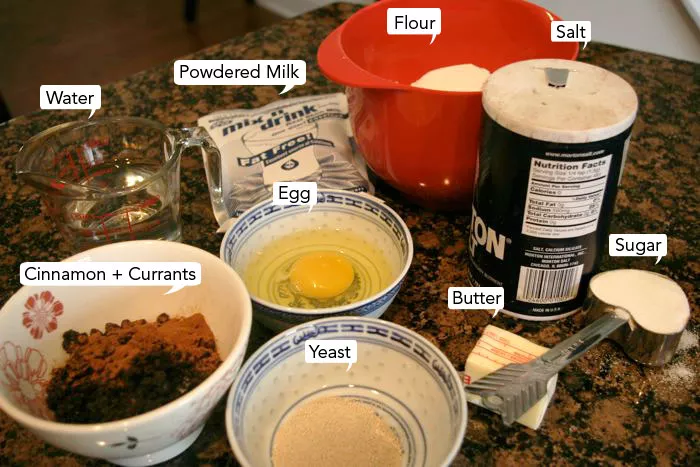 Hot Cross Buns
Ingredients:
3/4 cup warm water (110 degrees F/45 degrees C)
3 tablespoons butter
1 tablespoon instant powdered milk
1/4 cup white sugar
3/8 teaspoon salt
1 egg
1 egg white
3 cups all-purpose flour
1 tablespoon active dry yeast
3/4 cup dried currants
1 teaspoon ground cinnamon
1 egg yolk
2 tablespoons water
1/2 cup confectioners' sugar
1/4 teaspoon vanilla extract
2 teaspoons milk
Directions:
1. Put warm water, butter, skim milk powder, 1/4 cup sugar, salt, egg, egg white, flour, and yeast in bread maker and start on dough program.
2. When 5 minutes of kneading are left, add currants and cinnamon. Leave in machine till double.
3. Punch down on floured surface, cover, and let rest 10 minutes.
4. Shape into 12 balls and place in a greased 9 x 12 inch pan. Cover and let rise in a warm place till double, about 35-40 minutes.
5. Mix egg yolk and 2 tablespoons water. Brush on balls.
6. Bake at 375 degrees F (190 degrees C) for 20 minutes. Remove from pan immediately and cool on wire rack.
7. To make crosses: mix together confectioners' sugar, vanilla, and milk. Spoon an X on each cooled bun.