Red velvet cakes always draw comments. Comments about the shocking red color, the indescribable flavor, and the delicious cream cheese frosting that always accompanies it.
Though recipes for this cake vary, red velvet is always characterized by three things: buttermilk, cocoa, and the red color. Though it contains cocoa, the flavor can't really be described as "chocolate," nor can it be characterized as just a "vanilla white cake." Some say it's just a Devil's food cake with red coloring. You'll have to try it to know.
Making red velvet cupcakes from scratch requires a whole bottle or two of red food coloring. And you know what that means... red-stained clothing and stained fingers. I always manage to get it somewhere on myself.
Having learned my lesson, this time I just "doctored" a pre-boxed red velvet cake mix. (I know this is totally cheating, but please forgive me!) To add some weight and flavor to the mix, I used buttermilk instead of water and an extra egg.
Contrasted with luscious white cream cheese frosting on top, these dramatic red cupcakes really take the cake.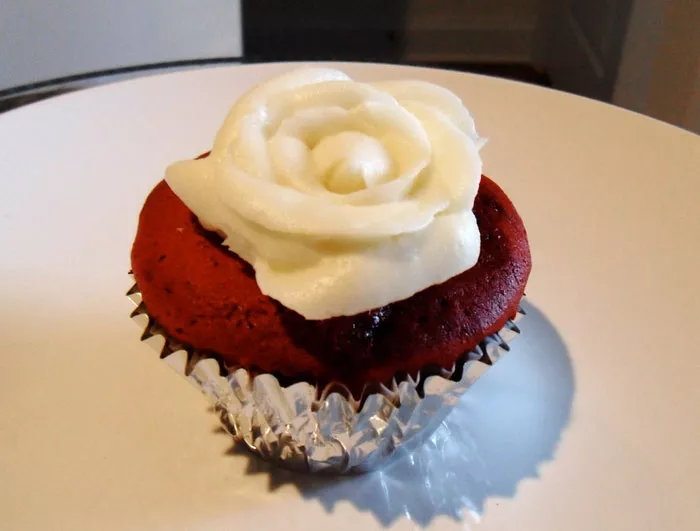 Red Velvet Cupcakes
Makes 24
1 box red velvet cake mix
1 cup buttermilk
3 eggs
Follow instructions on the back of the box, except use 1 cup buttermilk where they ask for water (the amount of buttermilk will be less than the amount of water asked for in recipe), and mix in 3 eggs rather than however many eggs asked for.
Bake according to box directions.
Top with Cream Cheese Frosting.
Cream Cheese Frosting
Enough for 24 cupcakes
8 oz cream cheese, room temperature
8 oz (half a stick of butter) unsalted butter, room temperature
6-8 cups powdered sugar
1 vanilla bean, seeds scraped OR 2 teaspoon vanilla extract (the vanilla extract will color the frosting so it loses it's pure white color)
In bowl, cream together cream cheese and butter, until uniformly combined. Add vanilla extract/vanilla bean and mix. Add powdered sugar, 1 cup at a time until desired pipeable or spreadable texture is met.