Ok, so they really aren't made of compost, but they are pretty much everything but the kitchen sink.
Momofuku Milk Bar, a bakery in NYC, makes cookies called Compost Cookies which are made with potato chips, pretzels, used coffee grounds and more goodies. These crazy cookies have a cult following on food blogs everywhere. After doing some research, I decided that I must try my hand at these ridiculous cookies.
The original Momofuku Compost Cookie. Photo courtesy of http://ggeatsnyc.blogspot.com/
The recipe I used calls for crushed Fritos, potato chips and pretzels, chocolate chips, butterscotch chips, and oatmeal. They certainly won't win a prize for the prettiest cookie, but man, are they pretty freakin' tasty. (I decided to skip the used coffee grounds since the idea is kind of gross and other bloggers said the taste isn't affected much by leaving them out.)
The CL staff thought these were pretty fantastic and everyone was willing to overlook the look of these ugly duckings. Five stars all around. Let's just say if food really is the key to a man's heart, I'd have a harem with these cookies.
As I busted out the bags of Fritos, chips and chocolate, I felt like I was having a junk food party for one.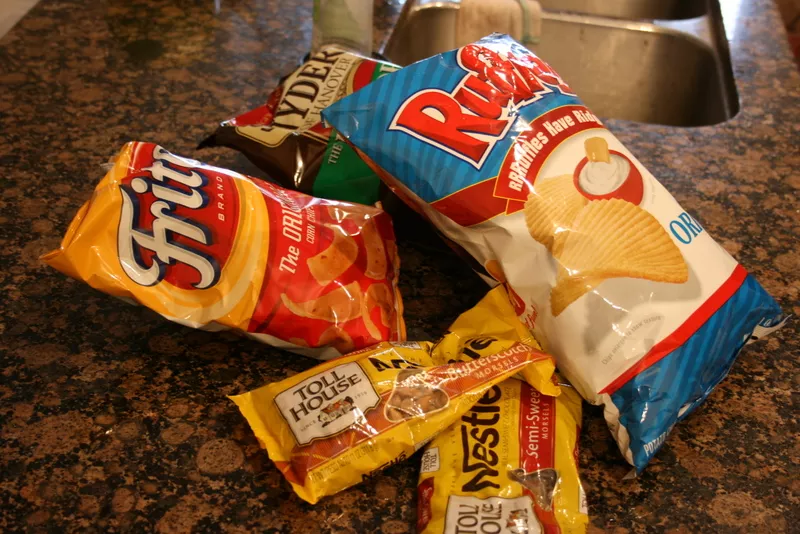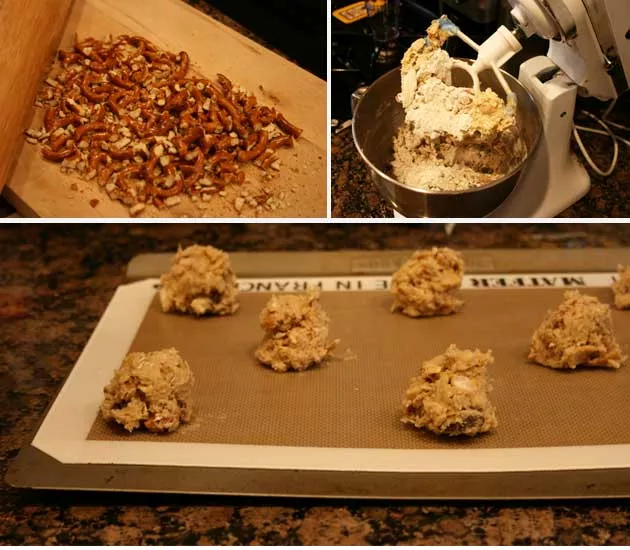 Here is my final product: A pile of Compost ... Cookies.
A few of the cookies came out too flat for my liking. Could be because the extra oils from the potato chips and Fritos made the cookies spread too much during baking. Next time I'll try chilling the dough before baking it too.
Copycat Momofuku Compost Cookies (Adapted from Oatmeal CookieBlog)
Creamables
1 1/2 sticks butter
3/4 cup dark brown sugar
1/4 cup white sugar
2 tablespoons dry, used coffee grounds
Wet Ingredients
1 egg
1 tablespoon vanilla
Dry Ingredients
1 cup oatmeal
1 cup flour
3/4 cup roughly crushed potato chips
1/2 cup roughly crushed pretzels
1/2 cup roughly crushed Fritos
1/2 cup butterscotch chips
1/2 cup chocolate chips
1 teaspoon baking soda
1. Preheat oven to 350º.
2. In your Kitchen Aid or a large mixing bowl, cream together the creamables.
3. In a small bowl, combine the wet ingredients and whisk together until smooth.
4. Add the combined wet ingredients to the creamables. Mix together until well incorporated.
5. In a large mixing bowl, add the dry ingredients. Using a spatula, fold together until evenly distributed.
6. Slowly add the dry ingredients to the combined creamables and wet ingredients. Mix until evenly combined. (*Optional: Chill dough for 2 hrs or overnight.)
7. Shape dough into balls--about 2 tablespoons each.
8. Place dough balls about 2 inches apart on Silpat- or parchment paper-lined cookie sheets.
9. Bake at 350º for 10-12 minutes or until golden brown. Remove the cookie sheets from the oven and let stand for 2 minutes. Then place cookies on wire racks to cool.