Do you appreciate a fun guy?
I hope so. This recipe for stuffed fungi (hardy har har), aka. Stuffed Mushrooms, is fabulous. Even those people who don't like the slimy, mushy texture of cooked mushrooms might enjoy this appetizer recipe -- the mushroom caps are only sauteed and still hold their crunch. You just fill them up with a mixture of cheeses and pop them in the oven. I served them up at my dinner club last night and they were quite the hit ... as fun guys usually are at parties. (Stop rolling your eyes. I can see you.)
To make these, you only need six ingredients. Which is a good thing because recipes with ingredient lists over 10 items scare me. I used Gorgonzola cheese here and I halved the recipe easily. You can assemble the dish in advance and store it in the fridge until you are ready to broil them.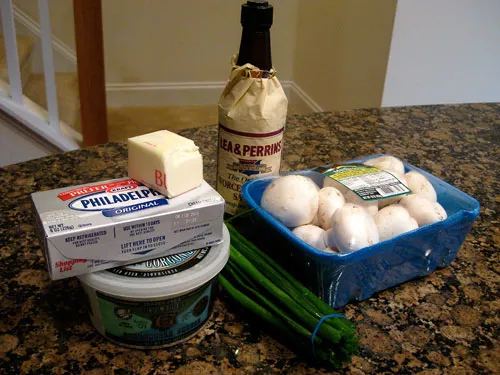 The ingredients: (clockwise) Worcestershire sauce, mushrooms, green onions, Gorgonzola, cream cheese and butter.
Mix up the stuffing goodies.
Stuffed Mushrooms
2 lbs medium mushrooms
6 tablespoons butter
1 (8 ounce) package cream cheese, softened
1/2 cup crumbled blue cheese
2 tablespoons chopped green onions
1 dash Worcestershire sauce
1. Remove stems from mushrooms; chop enough stems to equal 1/2 cup.
2. Cook 1 pound of the mushroom caps in 3 tablespoons of the butter over medium heat for 5 minutes; drain off fat.
3. Repeat with remaining 1 pound of mushroom caps and 3 tablespoons butter.
4. In a medium bowl, combine cream cheese and blue cheese, mixing until well blended.
5. Stir in chopped stems and green onions; fill mushroom caps.
6. Place on cookie sheet and broil until warm and tops are golden brown.