By Alexzenia Davis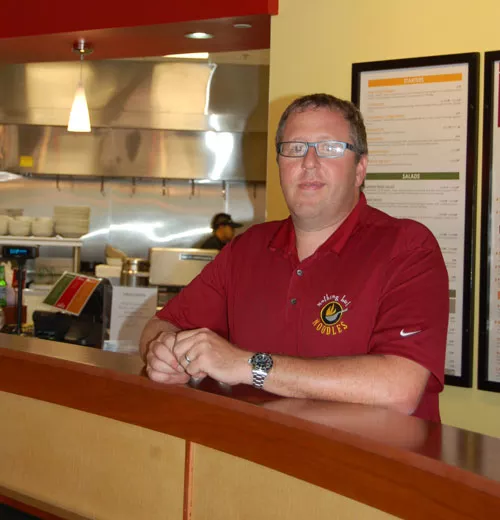 Todd Gallinek didn't always have his eye on the boiling pot. In fact, he didn't even have his foot in the kitchen. As a college student, Gallinek just knew he would become a lawyer … a career choice that stuck with him until his final year. Now, married with three kids, Gallinek has found his true calling. He owns two Nothing But Noodles restaurants in Charlotte — the franchise, located in 12 states, has garnered an impressive reputation. Along with his NBN locations, Gallinek owns a travel agency, Four Corners of the World, which specializes in adopting children from around the world. Making an impact in everything he does is what says Gallinek truly loves. He spoke with Creative Loafing and elaborated on what attracts him to the food industry.
Creative Loafing: I know you're not a chef, but how did your love for cooking and the culinary industry come about?
Todd Gallinek: I've always loved to cook, but I'm more about service. I saw the restaurant business as a way to serve customers. I love to eat and I've had a chance to travel around the world. When I came upon this restaurant, I loved everything about it. I can't take credit for creating it. But we make our sauces from scratch, everything's fresh. We cut every vegetable and every fruit.
I read that your food is heavily influenced by a variety of cultures and cuisines. What is your favorite country to visit, and which makes your favorite food?
My favorite food would be Indian, my favorite country to visit would be Vietnam. We don't serve either here, but I love flavors from Southeast Asia. [Nothing But Noodles serves] Thai dishes, Chinese and Japanese. I'm really into the flavors and spices.
If you can pinpoint the biggest perk that has come with entrepreneurship, what would it be?
Being my own boss. I would say flexibility, but when you own two restaurants it makes it very difficult. Meeting people. The reason I really got into it. I can meet new people every day. I serve the same food, but always to a different audience.
1605 Elizabeth Ave.
704-295-1466
7930 Rea Road
704-295-4961