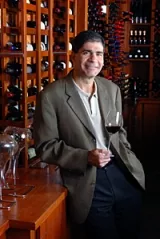 This week, Capital Grille on North Tryon launches their Master Wine Tasting event, offering up samples of twelve highly-rated, hand-selected wines with the purchase of a lunch or dinner. Master Sommelier George Miliotes (I wrote about him here) personally chose the Spanish, Argentinean, Napa and South African selections for the six-week promotion that starts July 13th and runs through August 23rd.
The wine tasting costs $25 at dinner and $10 at lunch (per person) and you'll receive 1- to 3-ounce pours of each selection. For the first three-week part of the promotion, you can taste the following wines from Spain and Argentina:
- Marques de Gelida Brut Reserva Cava 2005
- Vega Sindoa Rose 2008
- Shaya Verdejo 2008
- Juan Gil Monastrell 2006 (read Corkscrew review)
- Atteca Old Vine Grenache 2007 (read Corkscrew review)
- Allende Rioja 2005
- Volver Tempranillo 2007 (read Corkscrew review)
- Tilia Torrontes 2008
- Catena Chardonnay 2007
- Catena Malbec 2007 (read about it)
- Catena Cabernet Sauvignon 2006
- Alma Negra 2006
Read more about the wines and the details of the promotion here.
But the coolest part is possibly winning a wine trip to Argentina or Napa Valley (hosted by George Miliotes). What they said about the first trip to Argentina:
"During the first three weeks of our Master Wine Tasting Event, one Capital Grille guest will win

an extraordinary vacation for two to Mendoza, Argentina's premier wine growing region.

Far from a typical wine country tour, however, this will be a once-in-a-lifetime excursion filled

with experiences usually reserved for only a handful of true wine insiders… Entries for this incredible Wine Lover's Experience must be submitted in person at The Capital Grille and will be accepted July 13 through August 2. So reserve your table for our Master Wine Tasting Event soon and enter to win."
More details about the trip and how you can enter. The drawing is August 2nd and there are plenty of rules. Good luck!