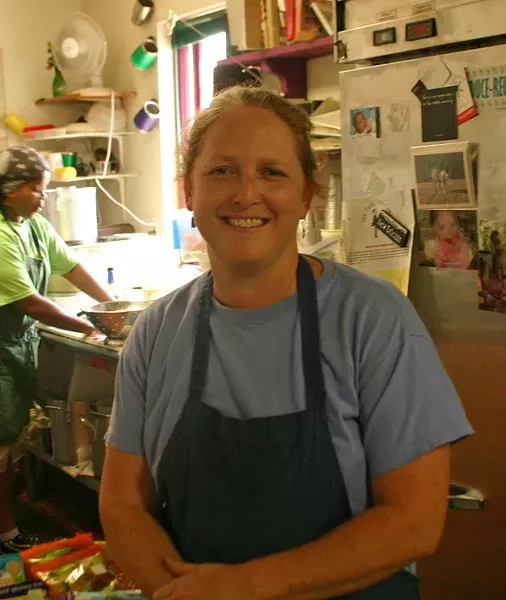 Twenty years ago Amy Fanetty answered a want-ad in a paper put out by Berrybrook Farm, an organic health food store on East Boulevard, looking for a manager of its juice bar. When she first arrived on the scene, Berrybrook Farm was primarily a grocery store that concentrated on organic foods, with the juice bar she was asked to run was a smaller side operation. Although the on-the-shelf grocery style shopping is still the establishment's primary focus, the juice bar located inside the store has since become a big attraction in its own right. The juice bar has since developed a regular clientele of both vegetarians and those that just enjoy healthy alternatives. The expanded menu now includes a variety of breakfast and lunch items that span a broad range of vegetarian choices.
Creative Loafing: So what does a juice bar entail exactly?
Amy Fanetty: Well it's morphed into a lot more than just a juice bar. I started here in '89, and worked here for eight years, then I left for a while after having a child. When I first came here we were just making soups and smoothies, then we started working with burgers and hot dogs, just trying to expand and get some more stuff here. The menu is strictly vegetarian, so our hotdogs and burgers are made from tofu. But we're expanding our menu.
What does best here?
Our soups are probably the most popular. We have a featured soup of the day on our calendar on the menu. But it also depends on the time of the year. Right now in this heat smoothies are really popular. And now we're keeping the juice bar open until six. We used to cut out at four, but demand has been so high that we stay open later.
Do you grow any of the produce? Is there an actual Berrybrook Farm somewhere?
No, no (laughs). We joke about that a lot. We go to the local farmers market when they're in town. We have several other suppliers as well.
Berrybrook Farm is located at 1257 East Blvd.