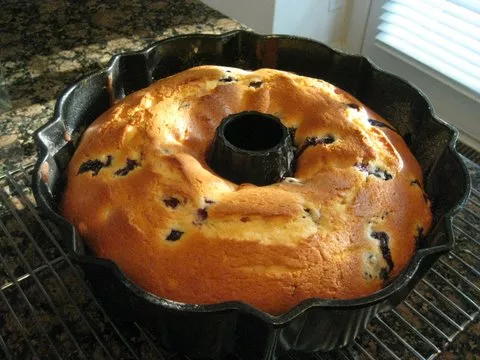 Don't let the "pound" in the name if the recipe scare you. This recipe doesn't actually require a pound of sugar, a pound of butter, and a pound of flour; nor does it cause you to gain a pound.
This Blueberry Pound Cake is from Cooking Light. It tastes full fat, but actually uses low fat cream cheese and lemon yogurt. Though the recipe is reduced fat, the texture of the cake is still fine, yet dense like a pound cake.
Drizzled with a lemon glaze, this makes for a delicious breakfast or even a dessert.
Blueberry Pound Cake
Yield: 16 servings (serving size: 1 slice)
Ingredients
2  cups  granulated sugar

1/2  cup  light butter

1/2  (8-ounce) block 1/3-less-fat cream cheese, softened

3  large eggs

1  large egg white

3  cups  all-purpose flour, divided

2  cups  fresh or frozen blueberries

1  teaspoon  baking powder

1/2  teaspoon  baking soda

1/2  teaspoon  salt

1  (8-ounce) carton lemon low-fat yogurt

2  teaspoons  vanilla extract

Cooking spray

1/2  cup  powdered sugar

4  teaspoons  lemon juice
Preparation
Preheat oven to 350°.
Beat first 3 ingredients at medium speed of a mixer until well-blended (about 5 minutes). Add eggs and egg white, 1 at a time, beating well after each addition. Lightly spoon flour into dry measuring cups; level with a knife. Combine 2 tablespoons flour and blueberries in a small bowl, and toss well. Combine remaining flour, baking powder, baking soda, and salt. Add flour mixture to sugar mixture alternately with yogurt, beginning and ending with flour mixture. Fold in blueberry mixture and vanilla; pour cake batter into a 10-inch tube pan coated with cooking spray. Bake at 350° for 1 hour and 10 minutes or until a wooden pick inserted in center comes out clean.
Cool cake in pan 10 minutes; remove from pan. Combine powdered sugar and lemon juice in a small bowl; drizzle over warm cake. Cut with a serrated knife.
Nutritional Information
Calories: 287 (19% from fat)

Fat: 6.1g (sat 3.4g,mono 1.8g,poly 0.4g)

Protein: 5.7g

Carbohydrate: 53.9g

Fiber: 1.5g

Cholesterol: 57mg

Iron: 1.3mg

Sodium: 227mg

Calcium: 50mg
Cooking Light, JULY 1998