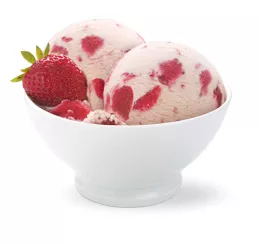 A haiku:
Cool, creamy, and pink
Dotted with red strawberries
Tastes like the summer
And a recipe:
Strawberry Ice Cream
1 small box instant vanilla pudding (made with box directions, milk added)
2 cups mashed berries
2 cups sugar
1 pint whipping cream
1 can evaporated milk
Mix all the ingredients together and chill until very cold. Then pour into your ice cream maker's canister. Churn until thickened, then freeze for a couple hours to firm it up.
I made this recipe yesterday. Pudding mix is an interesting ingredient, but it works -- this ice cream is good. The recipe made enough mix for two batches of ice cream for me (I used a Cuisinart duo flavor ice cream maker and the canisters are a bit smaller than other makers). Be sure not to overfill your ice cream maker -- fill it 3/4 full only to leave room for the ice cream to aerate and grow.