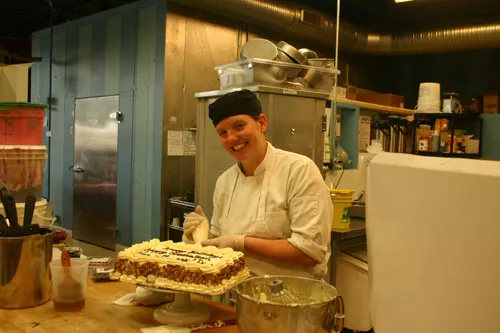 For the past eight years Kelly Stegenga has been perfecting the art of baking and pastry-making. The Ohio native moved to North Carolina after completing her externship with Pinehurst Resort and has since fallen in love with the state. She chose baking and pastry-making as a profession from her love for sweets and has been the head chef at Amélie's... a French Bakery since last May. Stegenga takes her work seriously and spins her own artistic touch on the torts, tarts and petit fours that the French bakery has become known for.
Creative Loafing: Has baking always been an interest? Or was it something that you got into after you started as a chef?
Kelly Stegenga: Well, I always enjoyed cooking and being in the kitchen, including baking. I would always help out my mom when I was younger, and I would make dinners when I got older. Then when I was in high school I decided that I wanted to go to culinary school. I wasn't sure if it was going to be baking and pastries or the regular culinary program. But I decided on baking and pastries because I love sweets.
What makes your pastries "French"? How are they different?
They don't have a lot of food coloring, and they are far more traditional in style. No bright-colored roses on them, they're not like Harris Teeter or Food Lion cakes. No Disney characters or sports teams on top. And we use a lot more eggs, cream and butter. French baking is actually pretty fattening.
So you work at a French bakery; you ever been to France?
I haven't. I'm kind of scared of flying. They're trying to get me to go sometime, and I would love to go. I would just have to get over flying.