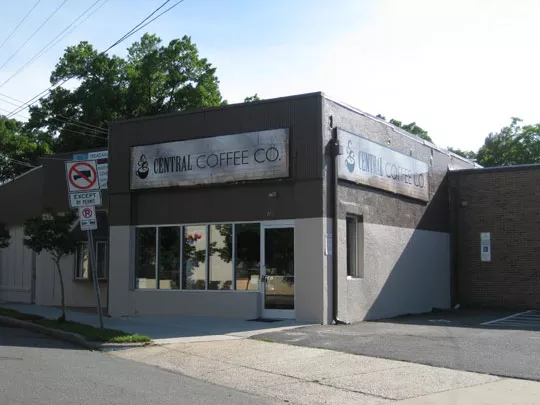 The latest (caffeine) buzz is that Plaza-Midwood just got a new coffee shop. Offering coffees and sweets, Central Coffee Co. opened six days ago on the corner of Central Avenue and Louise Avenue, across from Grand Central.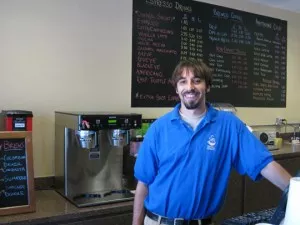 Owner Jimmy Kleto transformed the 1930s building from an old convenience store to the old-is-the-new-chic, modern/industrial coffee shop. Expanses of exposed original brick under green wall run down the length of the store. A burning fireplace and white leather seats in the back create a cozy coffee shop feel. With seating for 20, coffee tables, and free Wi-Fi, the shop creates a great hangout spot.
Kid-friendly, the shop includes a little easel chalk board for drawing and a game set for a impromptu chess match.
Kleto's specialty drink is the Central Shorty, a 6 ounce latte served in a ceramic cup made with 2 ounces of espresso, a shot of vanilla, topped with steamed milk and decorated with a little "latte art." Their coffee beans come locally from Dilworth Coffee.
If you are looking for something sweet to accompany your coffee, Central Coffee Co. offers homemade treats such as authentic Baklava made by Kleto's Greek mother, biscotti, scones, muffins, and more.
Their hours are 6 a.m. - 8 p.m. on weekdays/Saturdays and 6 a.m. - 6 p.m. on Sundays. There has been some talk about adding a TV, live music, and later hours in the future.
Head over to Central Coffee Co.'s grand opening on Saturday, May 30. They will be offering buy-one-get-one-free coffees all day, all drinks included.
Central Coffee Co.
719 Louise Avenue
Charlotte, NC 28204