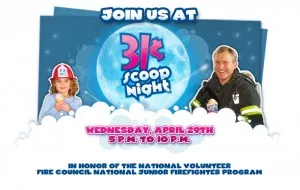 You can enjoy ice cream for 31 cents tonight and support a good cause at Baskin-Robbins. Read more information from the Baskin-Robbins Website below. Click here to find Baskin-Robbins store locations.
Join us for 31 Cent Scoop Night at Baskin-Robbins®

and help us honor America's firefighters with a $100,000

donation to the National Volunteer Fire Council (NVFC)

National Junior Firefighter Program.

Participating stores will reduce prices of small ice cream

scoops to 31 cents*. At some locations, you may also have

an opportunity to make a donation to local fire charities.

The National Volunteer Fire Council (NVFC) National Junior

Firefighter Program gives fire departments and youth nationwide

the resources, tools, and information they need to help develop,

grow, enhance, promote, and participate in their local programs.

In the program, youth learn about local fire, rescue, and emergency

medical services response organizations in a safe, controlled,

educational, and fun way while providing departments with an

excellent recruitment mechanism.
A donation of $100,000 will be made by Baskin-Robbins to the

NVFC National Junior Firefighter Program. At select local stores

throughout the country, you may also have a chance to donate to

your local fire station.

Baskin-Robbins is proud to support this worthy cause. We

encourage you to learn more about the National Junior Firefighter

Program by visiting www.nvfc.org/juniors.