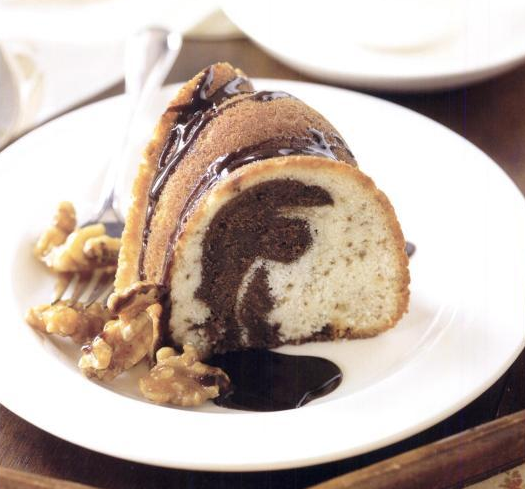 Photo from Baking, by Dorie Greenspan.
Dorie Greenspan is so badass. I bought her baking cookbook Baking: From My Home to Yours a year ago, and so far everything I've made from it is amazing. This Dorie lady even has her own cult following in the blogosphere! Her Mocha-Walnut cake is one of my favorites. It looks like nothing fancy -- no layers, frosting, sprinkles, roses, or glaze. But don't be fooled. This cake has sophisticated flavors of walnut and chocolate and a beautiful ginko-pattern marbling. Slice yourself of hunk of this cake and you'll see why it's so good.
Before you start, a couple tips: Make sure to butter and flour your bundt pan REALLY well. If you don't, the cake won't come out of the pan pretty. Also, when marbling the batter, go easy with the knife swirls and zig-zags. If you mix the batters too much, you won't get the pretty black and white look. Ok, that's it. Get baking.
Mocha-Walnut Marbled Bundt Cake
* 2 1/4 c flour
* 1/2 c ground walnuts (I used a food processor)
* 1 tsp baking powder
* 1 tsp salt
* 2 sticks plus 2 T unsalted butter
* 3 oz (a scant half cup) bittersweet chocolate, coarsely chopped (chocolate chips work fine)
* 1/4 c coffee, hot or cold
* 1 tsp finely ground instant coffee
* 1 3/4 c sugar
* 4 large eggs
* 2 tsp vanilla
* 1 c whole milk
1. Butter and flour your bundt pan, or any 12-cup cake pan (you could also use 2 loaf pans, or other pans). Preheat oven to 350 degrees. Whisk together flour, walnuts, baking powder and salt.
2. In a double boiler, put the 2 T butter (cut up into pieces), chocolate, and two kinds of coffee. Heat on low and stir to combine. Remove from heat.
3. Beat butter in mixer. Add sugar and blend. Then add the eggs, one at a time, and the vanilla. Mix well.
4. Add the dry ingredients and the milk alternately, beginning and ending with the dry ingredients and with 3 total portions of dry and 2 of milk. Think: dry, milk, dry, milk, dry. Mix.
5. Scrape a little less than half the batter into the chocolate mixture. Mix to combine.
6. Scrape all of the white batter into the bottom of the bundt. Top with the chocolate batter. Run a table knife SPARINGLY in a zig-zag pattern through the bundt for a chocolate-in vanilla pattern. Alternatively, for a real marbled effect, alternate large spoonfuls of white and chocolate batter in the pan, then swirl with knife.
7. Bake for 65-70 minutes (mine took just 60 minutes, so go easy here; don't overbake!). Transfer to rack to cook for ten minutes. Then unmold the cake and cool completely on the rack.