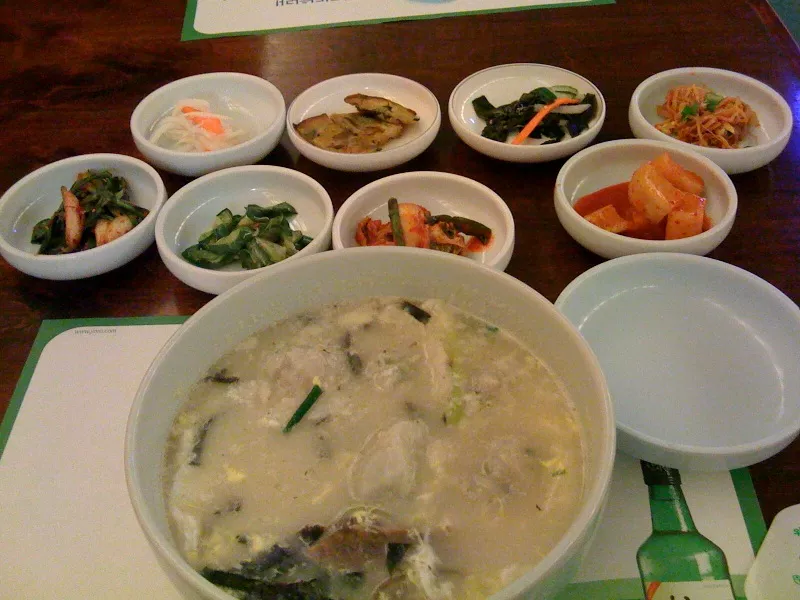 All this food for lil ol' me?
Today I went to the Korean Restaurant & Sushi Bar, located at 6404-A Albermarle Road (in the Bi-Lo shopping center). If you think there's something missing in the name I gave, nope. Koreans are simple people. They call it as it is.
I ordered the mando dukk gooksu — loosely translated as dumpling ricecake soup. This gooksu consists of beef dumplings, oval-shaped rice cakes, thin clear noodles, egg, chunks of beef and green onions. Yum.
As with every meal at a Korean restaurant, the main entree comes with banjan, or side dishes. I'm not a big fan of shin kimchee (kimchee that's older — you can tell because it's sour), and two of my kimchee dishes were sour. The other dishes that I could identify were pa jun (Korean pancakes), kongnamul (spicy bean sprouts), pickled seaweed, ggakdugi (turnip kimchee) and some kind of cucumber dish. (The side dish pictured to the far upper left ... no idea what the name of that is, but it's pickled and tasted yummy with my soup.)
Monday through Thursday: 11 a.m.-10 p.m
Friday through Saturday: 11 a.m.-11 p.m.
Sunday: 12 p.m.-10 p.m.
704-569-1954