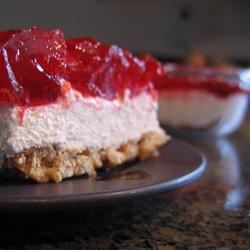 It usually ain't my thing to do such low-brow recipes that require pre-made packaged mixes and a can of this or a block of that. But this recipe for Strawberry Pretzel Squares has me intrigued. Some recipes call it Strawberry Pretzel Dessert, or Strawberry Pretzel Salad (salad?! I have no idea how this qualifies as a salad...). A crust made of pretzels, sugar and butter is topped with a creamy cream cheese layer, which is then topped with a layer of strawberry Jell-O and strawberries. So strange! Yet the salty/sweet and creamy/crunchy combos sound so good. I think I shall give this a try this weekend.
Here's the recipe if you want to try it too:
Strawberry Pretzel Salad
INGREDIENTS
2 cups crushed pretzels

3/4 cup butter, melted

3 tablespoons white sugar

1 (8 ounce) package cream cheese, softened

1 cup white sugar

1 (8 ounce) container frozen whipped topping, thawed

2 (3 ounce) packages strawberry flavored gelatin

2 cups boiling water

2 (10 ounce) packages frozen strawberries
DIRECTIONS
Preheat oven to 400 degrees F (200 degrees C).

Stir together crushed pretzels, melted butter and 3 tablespoons sugar; mix well and press mixture into the bottom of a 9x13 inch baking dish.

Bake 8 to 10 minutes, until set. Set aside to cool.

In a large mixing bowl cream together cream cheese and 1 cup sugar. Fold in whipped topping. Spread mixture onto cooled crust.

Dissolve gelatin in boiling water. Stir in still frozen strawberries and allow to set briefly. When mixture is about the consistency of egg whites, pour and spread over cream cheese layer. Refrigerate until set.