I'm back! I just got back from Bodrick's Bar-B-Q Rib Tips. Here's what it looks like from the outside:
And here's the inside: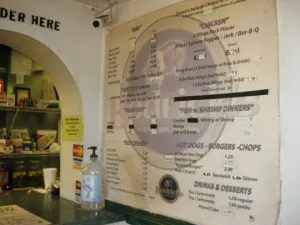 Bodrick's resides in a very humble free-standing building on Statesville Ave. Find a stoop to sit on or plan to take the food home with you, because it's take-out only. The menu includes meat platters, ribs, bbq pork and beef sandwiches, rib tip boats, fish and chicken dinners, chili cheese fries, and an array of sides. I wanted to get the rib tip boat, but since they were completely out of the tips, I got the small rib boat. For $4.99, I got a bed of crinkle cut fries with 4 saucy ribs on top, served with a buttery slice of garlic bread. The abundant meat on the ribs was cooked to perfection and just fell off the bone. The ribs were very saucy, which made them juicy and flavorful. Sooo good. I can't wait to go back and try the rib tip boat next time.
I also tried their BBQ pork sandwich. Another winner. The sandwich was topped with coleslaw and served on a seeded bun. Extremely tasty and served with french fries, or "FF," as they call them at Bodrick's.
Check out Bodrick's menu here. Visit their website here.
Visit Bodrick's:
3701 Statesville Ave.
Charlotte, NC 28206