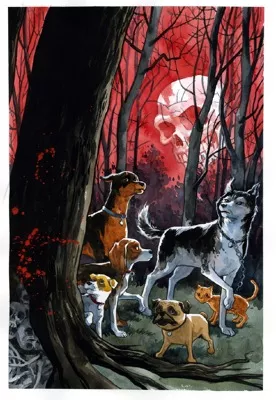 Beasts of Burden No. 1
Published by Dark Horse Comics. Written by Evan Dorkin. Art by Jill Thompson.
The Deal: Evan Dorkin brings back his crew of paranormal-investigating dogs and cats for their very own monthly series.
The Verdict: I'm blown away by this series. It's subversively entertaining — sporting the look of a children's book (courtesy of Jill Thompson's incredible painted art) but filled with adult-esque dialogue, moments of horror and violence. Do yourself a favor and buy it. (By the way, I don't own any pets, but I still liked the comic.)
Reviewed materials provided by Heroes Aren't Hard to Find: www.heroesonline.com.