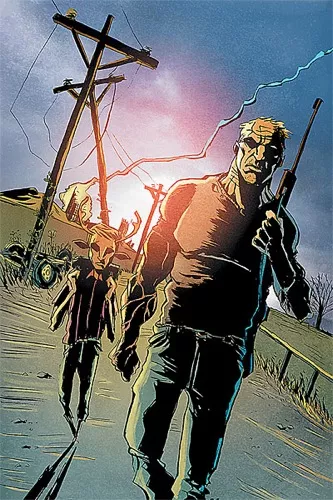 Sweet Tooth No. 2
Published by DC/Vertigo. Story and art by Jeff Lemire.
The Deal: So far, it seems like this comic is a post-apocalyptic-flavored tale of a young human/deer boy trying to survive with the help of a tough stranger.
The Good: The success of Sweet Tooth hinges on the comic's strong characterization. Writer/artist Jeff Lemire injects a ton of personality into the book, instantly making you care for the lead character, Gus, and fear for his safety on almost very page. But although Gus is hunted and wanted, he doesn't come off like a victim. He views his journey into a vast, unknown and dangerous world as an adventure — and we, the readers, can't help but be bitten by his enthusiasm and trepidation. Lemire's art is from the "quirky" school — and not everybody is going to dig it. Look past the unconventional illustration style, however, and you can see he's got a full grasp on all the fundamentals: storytelling, camera angles, lighting, pacing, emotion, etc.
The Bad: Although I attempted to describe Sweet Tooth in my opening sentence, I can't say I know exactly what this book is about yet. But that's not such a bad thing.
The Verdict: I think Vertigo has a new hit on its hands. It's a strange comic, but I recommend buying it.
Reviewed materials provided by Heroes Aren't Hard to Find: www.heroesonline.com.