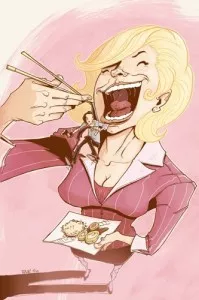 I read a ton of comics every week — that's on top of my regular duties as Editor of
Creative Loafing
. Suffice to say, I don't have a ton of time to review a lot of books in-depth. That said, here are a few quickie-style takes on comics I picked up this week:
• Chew No. 3: Chew is still a tasty-ass comic. Buy it. Buy it. Buy it.
• Captain America: Reborn No. 2 — Two issues in, this limited series is still an entertaining and engrossing read. But as I've said before in this space, can we just get to the end so I can see the Steve Rogers Cap back in action in the Marvel Universe?
• Justice League: Cry For Justice No. 2 — Though it's peppered with a few corny moments, the second issue of this limited series reads better than the first. Now, the art is (and was last issue) amazing ... but the story still seems to be moving a tad bit slow.
• Destroyer No. 4 and 5 — I hope that fans of Robert Kirkman read this five-issue series; it's everything you could ask for from the writer: extreme violence, copious amounts of blood, profanity ... and love. (Yes, love!) The art, by Cory Walker, is stunning ... oh, and the comic features one of the best endings to a series I've read in years.
• The Hangman No. 1 — Part of DC's Red Circle comic line, The Hangman really isn't anything you haven't seen in a superhero book before. I won't be buying the ongoing series when it starts in a few months.
• War of Kings No. 6 — This comic was a little too mired in cosmic crap. (Honestly, I'm just not a fan of the Inhumans.)
• Jonah Hex No. 46 — The latest issue of Jonah Hex starts off with a bang — a flurry of bullets actually — but then turns into a boring Civil War flashback.
• Superman: World of New Krypton No. 6 — It's an engrossing book, but it leaves me wondering: Is there anything good about living on New Krypton? Seems to suck being a Kryptonian.
• Agents of Atlas No. 9 — I'd never read this comic, so I decided to pick it up. Well, I found it in incredibly unreadable. Clumsy dialogue, uninteresting situations and not a lot of needed exposition. Bleck!
Reviewed materials provided by Heroes Aren't Hard to Find: www.heroesonline.com.