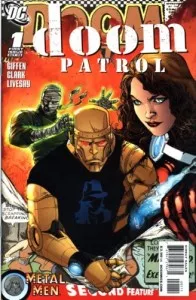 Doom Patrol No. 1
Published by DC Comics. Written by Keith Giffen, J.M. DeMatteis. Pencils by Matthew Clark and Kevin Maguire. Inks by Livesay and Kevin Maguire.
The Deal: Writer Keith Giffen leads the charge on this title, which stars DC's long-running group of misfit heroes the Doom Patrol. The Doom Patrol now lives with mad scientists on Oolong Island, but still seem to suffer from chronic bouts of self-loathing. Then in the second feature, the Metal Men take the spotlight.
The Bad: As soon as this book was announced, I feared it would be a dud. And after I saw the first few preview pages of the comic online, my fears were pretty much confirmed. Now, having read the entire issue, I'm convinced that I don't have an interest in this book — and, if it continues on this course, it might already be on its way toward cancellation. What's wrong with Doom Patrol? Well, there's nothing repulsive about it. The art is decent. The character deigns are OK. The story is mildly interesting. And that's the problem. The book is nothing spectacular; and in this terrible economy — with shelves already flooded with titles — if you're not knocking it out of the park, you might as well go home. And, hey, I'm a Giffen fan.
The Good: In the main Doom Patrol feature, Giffen's dialogue is engaging and entertaining. The Metal Men second feature, by the old Justice League creative team of Giffen, J.M. DeMatteis and Kevin Maguire, is funny ... and actually better than the main Doom Patrol story.
The Verdict: I probably won't be coming back for the second issue. And while the Metal Men story is good, it's not great enough for me to plunk down $3.99.
Reviewed materials provided by Heroes Aren't Hard to Find: www.heroesonline.com.