Look — I've found today's most incredible (well, most interesting) comic book news: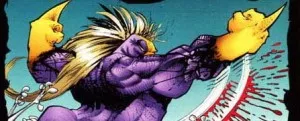 The Maxx animated cartoon streams online: Yes, there is a God. I hope you all remember this great animated adaptation of the great Sam Keith Image Comics series from the 1990s.
Do you believe in $1.99 comics?: Hey, I liked when Warren Ellis did it. Let's see what Harris Comics can do.
Archie names new CEO: Yo, I love me some Archie.
Peter David interview: Comicbookresources.com talks to the long-running and hard working writer.
Death Row ... Comics?: Death Row Records is apparently getting into the comic book business. Scary.
Art Spiegelman's lost ship: Follow the links the his new strip, "St. Louis Refugee Ship Blues."