It's been close to three years since singer/guitarist ZZ Ward released her debut album, Til the Casket Drops. Soaked with soul and bolstered by blues riffs, Ward brought forth her own brand of rock that won over fans with catchy songs including, the title track and "Put the Gun Down."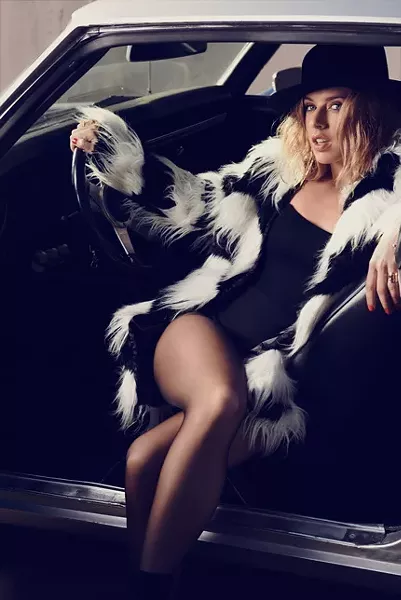 After a stint of relentless touring, Ward took time off to work on the followup. It's been roughly a year and a half since she was last on the road, but Ward's already great reactions in the first handful of stops. She released an EP of four songs, Love and War, as a teaser to the upcoming full-length due early next year. Love and War has only been out for a week, but her fans are already singing along to the songs. She's likely to see more of the same when the tour stops at the Fillmore on Sept. 11.
"It's been fun playing some of the new songs," Ward says. "We're kind of easing people into the new stuff that's coming out. I just want to give people new music a little bit at a time and bring them into the new album. (On this tour), we're playing a good mix of songs from the first album, the mixtape and the new EP."
Ward says the EP, which is four songs from the upcoming album, is a deeper look at her influences and artistry. She also got more personal with her lyrical content.
"When I wrote this album, I felt comfortable venting about what's going on in my life," she says. "That's the way that I cope with my life — I write about it. Fortunately, I get to do that for a living. I get to be transparent and passionate about things in my life."
On "Marry Well," Ward sings about living a traditional life of marriage and relationships vs. living on the road and paving her own way. It's played over a traditional blues riff that Ward played often while growing up and she feels the song is a great example of how she showcases her influences on the album.
It shouldn't be surprising that Ward is comfortable opening up in her music. "Charlie Ain't Home" from Casket is overtly sexual. "Golden honey drippin' from this house/ Black stilettos on a leather couch/ Our blue jeans stickin' tight like glue/ Soakin' wet, drink it up like juice," she sings.
"I play that song every night, sometimes in front of thousands of people," Ward says. "People will always judge you for what you do. Sometimes, I feel responsible to put my hater shades on and talk about what's going on in my life and just not care about what other people think."
Ward says for the first album, she was just writing songs in a "crappy little apartment" without a care in the world if anyone would connect to her music. This time around, she had to shut off thinking about her fans and write about what she was going through. She knew she wouldn't have to worry about her fans if she was being honest with her lyrics.
"My fans connect with me because I have the ability to let them in. I'm transparent," she says. "You can't just write music for other people, because that's not going to be real. If you put your heart and soul into something, it's all downhill. If you struggle with something, you probably didn't write a great song. Once you're done, you can go into the world and connect with your fans. That's the special part of it."