Yung Blaza, a fiery, lyrically-minded rapper, arrived on the Charlotte scene by way of Bank of America and the mortgage industry. Not the typical route for a hip-hop artist.
After crunching mortgage rates for BofA among the other Uptown suits, Blaza decided to leave behind his life at a proper desk job when he noticed the creative opportunities Charlotte offered. He decided to pursue his dream of becoming a fulltime hip-hop performing artist.
"I realized that Charlotte was a lot bigger than I expected it to be, as far as having a music market, a financial market," he says. "I felt like it was the perfect place."
Yung Blaza (Photo by Amariya Brinson)
Now 29, Blaza's music is reminiscent of some of his influences, like 2 Chainz and Future, but he looks to his favorite artists, OutKast, for lyrical inspiration and style. His website features a few tracks that give you a taste of what he's all about, political and thoughtful lyrics over the trap beats you might expect from commercial rap today.
No song is more blatantly political than "Chain Gang," which confronts the anxieties and dangers of being a black man in today's day and age. Blaza raps, "You to blame, tryna stop a black man winning, They just want to say a black man ignant/ So the judge tryna get me sentenced/ Made the decision based on my pigment."
His most recent full-length release, No Pressure 3: Nothing is Forgiven, can be found on Apple Music, and features the catchy, bump-worthy single in "No Go." On the track "Cole World" listeners hear a real conversation during the first meeting between Blaza and NC hip-hop mogul J.Cole. The two rappers discuss how they share the same name, because J. Cole's first rap name also happens to be Yung Blaza.
After walking his two dogs, Tigger and Trippie, around his University City neighborhood, Blaza takes a minute to discuss another lyrically focused and genre-challenging album, coming this winter.
Creative Loafing: What kind of music projects are you working on now?
Yung Blaza: I have an album in the works that I am releasing in December. It is called Lyrical Miracle. I'm very excited for it, simply because it's gonna be my most complete work. It's pretty much gonna be a story, and I feel like people are gonna be able to visualize the songs just because it's gonna be very lyrical, but the production is gonna be like something you've never heard.
We're trying to create a new genre. We're trying to bring the lyricism back to hip-hop, but at the same time with the production, change the sound and the feel of it altogether.
So you feel like lyricism has left the genre?
I feel like it's not completely gone, but it's definitely a lot more rare than it used to be. I feel like now you can count on your hands how many lyricists there are that are relevant, where before you could go for days.
Now I feel like you have J. Cole, you have Kendrick Lamar, artists like Big Sean, Drake, but then from there it gets really hard to start naming what artist you like because of the things they're saying.
Your song "Chain Gang" takes a very political stance. What inspired that?
What was going on at the time in Charlotte really inspired me. I was really emotionally charged simply because there was a lot of tension between the police and the community, and I wanted to use my platform as a way to vent.
And I didn't do the song specifically for popularity, or for shares, or for likes, but just the opportunity to get my message across, my point-of-view of what was going on, and bring some awareness to the situations that we've had going on here in Charlotte.
Will there be more of that in the upcoming album?
Yeah. I have one song that is literally a continuation of it that will be on the Lyrical Miracle album.
You reference North Carolina in a lot of your songs. Does being from North Carolina affect your music?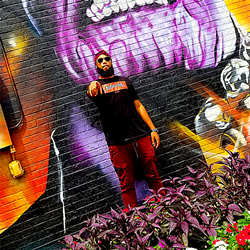 Absolutely. I am a proud North Carolinian. Growing up in the 90's music era in North Carolina I feel like was perfect, because we saw the beginning of hip-hop and how New York, and some of the up-north states, how they got it started. We saw how California — with groups like N.W.A. and Snoop Dogg — continued it.
But to see the evolution of the South, to see Atlanta and Miami and Louisiana just say, "We're gonna create this sound that lasts for the next two generations," I think is pretty neat, and I think it had a big effect on my sound and who my influences are in the music game. It kind of made me who I am as an artist.