(View From The Couch is a weekly column that reviews what's new on Blu-ray and DVD.)
Antonio Banderas and Madonna in Evita (Photo: Disney)
EVITA (1996). At a time when songs showcased in movies were being shot as MTV music videos, leave it to director Alan Parker (The Commitments, Fame) to offer a full-blooded musical with epic elegance on its mind. Based on the Broadway smash whose on-again, off-again journey to the screen went through numerous players (including Oliver Stone as director and, most tantalizingly, Meryl Streep as star), Parker's version finds Madonna cast as Eva Duarte, the controversial Argentinian who rose from humble beginnings to become the wife of dictator Juan Perón — and, for many, the true leader of the nation — before dying of cancer at the age of 33. A gorgeous production (special kudos to cinematographer Darius Khondji), Evita will appeal to those able to get past their own feelings toward the Peróns and appreciate the sly manner in which the piece addresses the cult of personality and how it often feeds the spiritual needs of the less fortunate. Since Madonna has to rely on her powerful vocal chords rather than her limited emoting, she proves to be just fine as Evita; also effective is Jonathan Pryce as Juan Perón (no stranger to musicals, Pryce's stage credits include My Fair Lady, Dirty Rotten Scoundrels and his Tony-winning role in Miss Saigon). Still, the movie is swiped outright by Antonio Banderas, who's riveting as the omniscient, ambiguous narrator Che. The film admittedly drags toward the end (as does the otherwise excellent Tim Rice/Andrew Lloyd Webber score), but that's not enough to mar the exhilaration felt by watching this bold production. Nominated for five Academy Awards (including one for Khondji), this won Best Original Song for "You Must Love Me," the only tune written specifically for the movie — or, in more blunt terms, written specifically to try to nab an Oscar. It's an OK piece, though it doesn't compare to such stage gems as "I'd Be Surprisingly Good for You," "Rainbow Tour" and the signature ballad "Don't Cry for Me Argentina."
Blu-ray extras include a making-of featurette; the music video for Madonna's "You Must Love Me"; and the teaser trailer.
Movie: ***1/2
A scene from the softcore spoof Flesh Gordon, one of the films showcased in 42nd Street Forever (Photo: Mammoth Films & Synapse Films)
42ND STREET FOREVER (2012). I'm not a fan of trailers for upcoming releases since they always reveal more than I would like. But I'm a sucker for vintage trailers, especially ones for grindhouse titles that I'm probably never going to make the time to see. To that end, Synapse Films' 42nd Street Forever DVD series has been a godsend: Since 2005, the outfit has released a half-dozen volumes showcasing hundreds of coming-attraction reels for the sorts of exploitation features (mostly from the 1970s) that served as the bread and butter for low-rent theaters and drive-ins. Now Synapse has elected to bring the series to Blu-ray, importing the majority of the trailers from Volumes 1 and 2 of the DVD series and adding a few new ones. The result is 3 hours and 45 minutes of nonstop disreputability, and as with the DVDs, the order of the trailers is genre-based. The collection begins with several blaxploitation titles (e.g. Black Samson, The Guy from Harlem); following blocks include revenge yarns (Rolling Thunder, Ms. 45), T&A romps (The Pom Pom Girls, The Teasers Go to Paris), sci-fi tales (Starcrash, They Came from Beyond Space), gore flicks (Women and Bloody Terror/Night of Bloody Horror, Dr. Butcher M.D.), martial arts excursions (Super Man Chu, the must-be-seen-to-be-believed The Crippled Master), and biker flicks (Devil's Angels, Werewolves on Wheels). The disc offers some familiar names: For instance, world-class filmmaker Pier Paolo Pasolini is represented by the controversial Salò, or The 100 Days of Sodom (a film available on the prestigious Criterion label), while Sylvester Stallone's notorious pre-Rocky softcore porn flick The Italian Stallion (aka The Party at Kitty and Stud's) also shows up. As for the best trailer in the collection? That's open for debate, but I'm partial to the hilarious mock-newscast employed for the double feature I Dismember Mama/The Blood Splattered Bride.
The only Blu-ray extra is audio commentary by AVMANIAC.COM's Edwin Samuelson, Fangoria magazine's Michael Gingold and Temple of Schlock's Chris Poggiali.
Collection: ***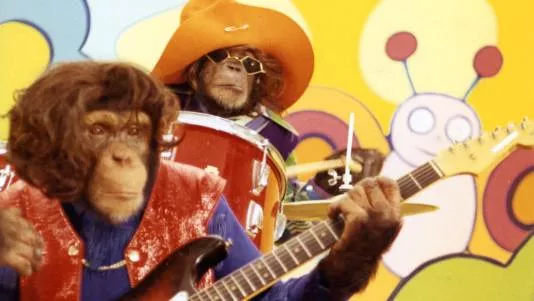 The Evolution Revolution in Lancelot Link: Secret Chimp (Photo: Film Chest & ABC)
LANCELOT LINK: SECRET CHIMP (1970). Ah, those wild and wacky children's shows that dotted the Saturday morning schedule from the early to mid-1970s. Patently bizarre (audiences now assume the filmmakers were all doing drugs while filming) and produced on the cheap, these shows may have had brief runs (unless one counts the endless reruns) but many have gained cult followings, particularly among the nostalgists. Many have heard of H.R Pufnstuf, Sigmund and the Sea Monsters and even The Bugaloos, but who remembers The Lost Saucer, with a post-Gomer Pyle Jim Nabors as an alien named Fum? Or Far Out Space Nuts, with a post-Gilligan's Island Bob Denver as a goober who winds up in space? Or Lidsville, about a boy who's magically transported to a land populated by living, talking hats? All of these shows were created by the singularly unique duo of Marty and Sid Kroft — not so Lancelot Link: Secret Chimp, which hailed from the minds of Allan Sandler, Stan Burns and Mike Marmer (the latter two long-time writers for Steve Allen, Carol Burnett and Flip Wilson). As Get Smart was winding down its five-year run in prime time, this kiddie fare sought to carry forth the torch in spoofing popular spy fare like The Man from U.N.C.L.E. and the James Bond outings; it lasted a mere 17 episodes. With a cast comprised entirely of monkeys (yes, monkeys), this finds Lancelot Link and Mata Hairi, the best secret agents working for APE (Agency to Prevent Evil), repeatedly thwarting the nefarious plans of the evildoers at CHUMP (Criminal Headquarters for the Underworld Master Plan). Voice actor Dayton Allen (who was living in Hendersonville, NC, when he passed away in 2004) lent his pipes for Lance, fellow vocal performer Joan Gerber paid lip service to Mata, and Bernie Kopell, best known as Dr. Bricker on The Love Boat, spoke the words as CHUMP leader Baron Von Butcher. The show is amusing when taken in small doses, but the musical interludes featuring the psychedelic band Evolution Revolution have to be witnessed at least once in a person's lifetime.
DVD extras include interviews with Sandler and musical director Bob Emenegger; the award-winning 1999 documentary short I Created Lancelot Link; and recent footage of Sandler visiting Lancelot Link at his retirement home, the Wildlife Waystation in Los Angeles. Incidentally, part of the proceeds from sales of this DVD will go to the Wildlife Waystation, which desperately needs funds to continue to provide for the care of wild animals.
Collection: * to ****, depending on your age, mood and penchant for kitsch
Christian Bale (center) in Newsies (Photo: Disney)
NEWSIES (1992). Ah, the power of the home theater. Upon its initial release, Newsies became one of the biggest bombs of the year, failing miserably at the box office and emerging as a favorite of no one except Golden Raspberry Award voters (who handed it five Razzie nominations, including Worst Picture). Yet thanks to VHS and DVD, it built an audience of die-hards over the ensuing years — though the box copy deeming it "a classic family musical" is clearly laying it on a bit thick. As a drama, it features potent material: With the real-life Newsboys Strike of 1899 as its inspiration, it shows how struggling newspaper boys, many of them living on the streets, scored a victory against moguls Joseph Pulitzer and William Randolph Hearst when the two millionaires tried to increase their profit margins at the expense of the poverty-stricken kids (a scenario that of course is familiar to the 99 percent, and we can largely thank Ronald Reagan's union-busting for the fact that such battles are lost by the little people today). But by presenting this as a musical, all hope is lost, thanks to imminently forgettable tunes and the casting of actors who can't sing (including star Christian Bale, all of 17 when filming occurred). The adults fare even worse than the kids: Robert Duvall is atypically awful as Pulitzer, Bill Pullman does nothing but grin as a sympathetic journalist, and Ann-Margret is wasted as a Swedish vaudeville performer. Although it's harsh, my absolute favorite quote regarding this film was from Michael Atkinson in a 1996 article for Movieline magazine: "I couldn't care if [director Kenny Ortega] wrote Shakespeare plays, filled the belly of every starving child in the third world, and had the ability to stop violence and war everywhere just by farting, he'd still be the guy responsible for Newsies. What other director would have touched this nonsense with Ed Wood's dead hand?"
Blu-ray extras include audio commentary by the filmmakers (including Ortega); two behind-the-scenes featurettes; a piece on the 1899 strike; a storyboard-to-scene comparison; and a sing-along option.
Movie: **
Sally Field and Burt Reynolds in Smokey and the Bandit (Photo: Universal)
SMOKEY AND THE BANDIT (1977). Film fans know that 1977 was the year that science fiction exploded at the box office thanks to Star Wars, but look right below it on the chart and you'll see that the next spot belonged to Smokey and the Bandit. (Since 1977, re-releases have allowed both Close Encounters of the Third Kind and Saturday Night Fever to pass it on the all-time top moneymakers chart.) Burt Reynolds was already a sizable box office draw when he headlined the film, but when this audience favorite became the biggest smash of his career, it enabled him to subsequently land in the number one slot on Quigley Publishing's annual (since 1932!) list of the Top 10 Moneymaking Stars, a position he held for five consecutive years. Perhaps the best of the "good ole boy" flicks that were so popular during the 1970s, this finds the narcissistic Bandit and his partner Cledus (Jerry Reed) agreeing to deliver hundreds of cases of Coors beer from Texarkana to Atlanta in 28 hours. That's a tough enough task, but since transporting beer over state lines is illegal, the pair also have to contend with the law, particularly the blustery Sheriff Buford T. Justice (Jackie Gleason). Perfect popcorn entertainment, the movie benefits from some excellent vehicular stuntwork, an apt role for Reynolds, the introduction of Reed's smash single "East Bound and Down" (whose name was obviously borrowed for the popular sitcom Eastbound & Down), a bright turn by Reynolds' real-life girlfriend Sally Field as a peppy hitchhiker, and Gleason at his hammiest (where else has one character gotten the chance to use such terms as "possum's pecker," "schnauzer's dick" and "tick turd"?).
Blu-ray extras include a making-of featurette; a tutorial on CB lingo; and the theatrical trailer.
Movie: ***
Barbara Stanwyck and Kirk Douglas in The Strange Love of Martha Ivers (Photo: Film Chest & Paramount)
THE STRANGE LOVE OF MARTHA IVERS (1946). Kirk Douglas made his motion picture debut in this vintage thriller that too often veers more toward mopey melodrama than sizzling film noir. The noir elements do make an occasional appearance, as this dark tale centers on what happens when a young girl named Martha (Janis Wilson) kills her cruel aunt (Judith Anderson) in the presence of chums Sam (Darryl Hickman) and Walter (Mickey Kuhn). Sam, always in trouble with the law, flees town; when he returns decades later (now played as an adult by Van Heflin), he learns that Martha (Barbara Stanwyck) is unhappily married to Walter (Douglas) but had nevertheless engineered her meek husband's climb to district attorney. Sam falls for an ex-con named Toni (Lizabeth Scott), but their hopes at a happy life together are marred by the efforts of Martha, who's still attracted to Sam, and Walter, who thinks Sam has only returned to town to blackmail them over the long-ago murder. Stanwyck, Heflin and Douglas are all fine, and when John Patrick's Oscar-nominated story focuses on their various dilemmas, it's gripping stuff. But the plotline involving Sam's relationship with Toni is languidly presented and detracts from the rest, and it doesn't help that Scott basically comes off as a poor man's Lauren Bacall.
Blu-ray extras include audio commentary by author William Hare (Early Film Noir: Greed, Lust and Murder Hollywood Style); a before & after restoration demo; and the trailer.
Movie: **1/2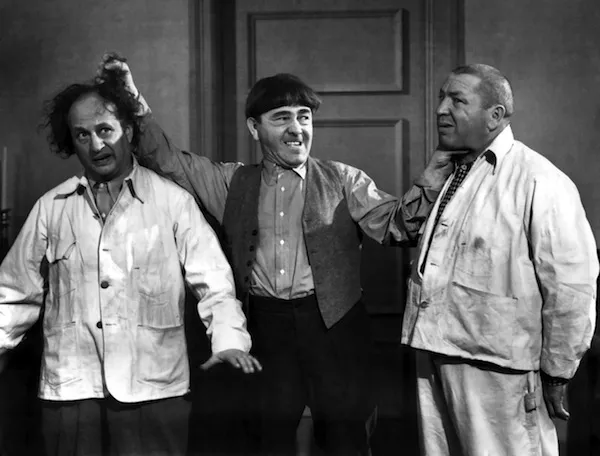 Larry, Moe and Curly, stars of The Three Stooges: The Ultimate Collection (Photo: Sony)
THE THREE STOOGES: THE ULTIMATE COLLECTION (1934-1959). Between October 2007 and June 2010, Sony Pictures Home Entertainment released eight DVD collections that included all 190 shorts the comedy team made from 1934 through 1959. This fantastic box set not only contains all eight of those volumes but also includes a new disc packed with more material, some of it never released in any home video format. The highlight of this new collection remains, of course, those 190 shorts, particularly the ones with the incomparable Curly Howard starring alongside Moe Howard and Larry Fine (after Curly retired in 1947 due to failing health, he was replaced by Shemp Howard, who was later replaced by Joe Besser after suffering a fatal heart attack in 1955). Watching Moe, Larry and Curly create magic and mayhem in such nyuk-inducing efforts as They Stooge to Conga, A Plumbing We Will Go and the Oscar-nominated hospital gem Men in Black makes that recent big-screen Stooges movie appear like even more of an embarrassment. This is the real thing, and it's supplemented with an extra disc that includes approximately 11 hours of additional goodies. These include two feature-length Three Stooges films, 1945's Rockin' the Rockies and 1959's Have Rocket, Will Travel (but, alas, not 1965's The Outlaws Is Coming, the best of their flicks); three Stooge cartoons; and over two dozen comedy shorts showcasing either Shemp Howard, Joe Besser or final Stooge Joe DeRita (aka Curly Joe).
There are no extras in this DVD set — a surprise, considering the amount of material out there (e.g., a dozen documentaries, the A&E Biography episode, archival appearances on The Ed Sullivan Show, etc.). Then again, with over 60 hours of viewing time already included, who has time for extras?
Collection: ***1/2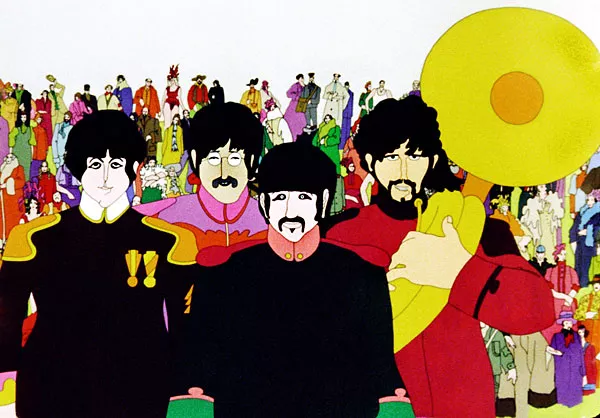 The Beatles, very animated in Yellow Submarine (Photo: EMI)
YELLOW SUBMARINE (1968). Like several other films from the late 1960s — Midnight Cowboy, The Graduate, etc. — The Beatles' Yellow Submarine has long since transcended its dated elements on its way to becoming a timeless classic. An outrageously inventive piece of eye-popping pop, it still qualifies as one of the greatest animated movies ever made. (It also landed in the number 11 spot on Creative Loafing's own list of The 20 Greatest Rock Films Ever Made.) The anything-goes storyline centers on the efforts of John, Paul, George and Ringo (actually voiced by four other actors) to save the blissful Pepperland from the monstrous Blue Meanies. Director George Dunning and his team of animators and scripters (including Love Story author Eric Segal) never let us catch a breath, cramming the soundtrack with grade-A Beatles tunes (including "Lucy in the Sky with Diamonds," "When I'm Sixty-Four" and perhaps my favorite Fab Four song, "Eleanor Rigby") and a nonstop succession of puns and wisecracks ("I warned you about eating on an empty stomach"). Parents who haven't seen this since its original release (if ever) may not recall that the movie was G-rated — there's no sex or drugs, just rock & roll. In other words, this makes a fine choice for family-night viewing, as kids are sure to enjoy the catchy tunes and glorious colors. (My own daughter first saw it at the age of 8, when it was released on DVD in 1999; her favorite character was the diminutive Jeremy, aka "Nowhere Man," whom she kept referring to as "the little fellow.") I was a kid myself when I first saw this; what's unusual is that my first two viewings of it were on black-and-white TV sets, and the mind-blowing psychedelic splendor still managed to break through. And to this day, I'm still freaked out by Glove, that flying fashion accessory with a shit-eating grin and a demonic laugh that could curdle milk.
Blu-ray extras include audio commentary by production supervisor John Coates, with additional contributions by art director Heinz Edelmann; the making-of featurette Mod Odyssey; cast and crew interviews; three storyboard sequences (two not used in the final film); original pencil drawings; and behind-the-scenes photos. The set also contains a 16-page booklet, cells of the four animated Beatles, and a sheet of 10 stickers.
Movie: ****