Anyone who's ever done anything creative — from an arts project to journalism to a business venture — can identify with sometimes feeling like a fraud.
There's a name for that. It's called "imposter syndrome," and Charlotte writer Valaida Fullwood, author of Giving Back: A Tribute to Generations of African American Philanthropists, has suffered from it. Even though her book was listed among the 10 best black books of 2011 and endowed with the prestigious Terry McAdam Book Award, the Morganton native doubted herself. Even when I asked Fullwood to define imposter syndrome, she initially hedged.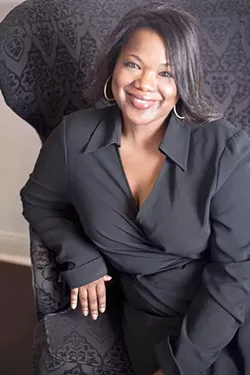 Valaida Fullwood. (Photo by Charles W. Thomas Jr.)
"Well, I'm not an expert on imposter syndrome, specifically," Fullwood explained. "I've just experienced it."
It was Donna Scott of Charlotte theater arts group Donna Scott Productions who diagnosed Fullwood's condition after her appearance at the 2013 TEDxCharlotte conference. Scott saw something in the talk that struck a universal chord. And now she has tapped Fullwood to be the featured guest at the latest installment of DSP's Women Entrepreneurs in Business and Arts speaker series. Fullwood's talk, From "Imposter" to Empowered, is free to the public, but an RSVP is required due to limited seating.
CL spoke with Fullwood about how she came to terms with her feelings of inadequacy.
Creative Loafing: What does imposter syndrome mean to you?
Valaida Fullwood: It's the struggle among creative people — or actually, among people in general — who aspire to create or do something in a field in which they don't feel credentialed, or in which they don't feel they're experts in a traditional sense. Whether it's an artist or writer or creative person or a businessperson, whatever their point of reference is, they question whether they measure up or whether they can really call themselves an expert.
What's your personal experience with imposter syndrome?
I'd had a clear idea for [Giving Back] and was very passionate about it, and although I had often written things and worked independently and been contracted to write reports and papers, I was initially hesitant to call myself a writer. I never aspired to become an author or to write a book, but this particular idea came to me and I felt a book was the right vehicle for sharing it.
The process took about five years, and through that journey I eventually gained the confidence to call myself a writer. But it was torturous at times — I'd ask myself questions like, "Who do you think you are?" and "Can my writing or my book be valued by anybody?" — because I didn't have an English degree or a journalism degree.
You have said that your experience with imposter syndrome dovetailed with the experiences of some of the folks in your book. How so?
The point of the book was to lift up the stories of everyday givers in black communities — to make philanthropy more democratic in terms of who can have an impact in a community. But when I approached people to share their stories, many of them were hesitant because of another facet of imposter syndrome. To contribute to a book on philanthropy would mean you have to see yourself as a philanthropist. And historically, philanthropy has been set up as the domain of old, dead, rich white guys; if you don't fall into that category, you question whether you're a philanthropist.
What I found is that it is important that people see themselves as being serious practitioners of philanthropy, whether or not they call themselves philanthropists. And that extends to other creative endeavors. Whether I call myself a writer or somebody else calls me a writer — that's not important. It's more of an internal thing — that I know I engage in writing in a professional, serious way.
You've been called an "idea whisperer." What does that mean?
I come up with a lot of wild ideas, and while having an idea is one thing, being able to tame that idea or harness it into something that can have an impact is another thing altogether. So I feel like it's a gift that I not only have a whole herd of wild ideas constantly, but like a horse whisperer, I also have the skill-set to take those ideas and make them useful to me or to others.
What role does Donna Scott's speaker series play in Charlotte?
It provides an opportunity for creative people, particularly women, to talk about their struggles and experiences — because these topics oftentimes resonate. Our work is often done in isolation, and we have all these internal questions. Forums like this provide spaces for us to learn that many of the issues we face are universal. We're not alone in our struggles and pursuits.