WONDER WOMAN
***1/2 (out of four)
DIRECTED BY Patty Jenkins
STARS Gal Gadot, Chris Pine
Gal Gadot as Wonder Woman (Photo: Warner)
Wonder Woman is the right movie at the right time – and for all the right reasons.
Following the underwhelming trio of Suicide Squad, Batman v Superman: Dawn of Justice and especially Man of Steel, it's the first movie in the DC Expanded Universe worthy of its guaranteed box office riches.
Following the desultory likes of Catwoman, Elektra and (going waaaay back) Supergirl, it's the first decent superhero film centered on a female protagonist.
Following a rash of genre flicks that mistake nihilism for gravitas, it's one of the few to unequivocally maintain that there's still a place for uncompromised champions in our world.
Following ... well, nothing, actually ... it's the first major superhero film directed by a woman (unless one wants to make the argument that Punisher: War Zone, helmed by Lexi Alexander, was "major").
And following a seven-month (and counting) period which could be tagged Orange Is the New Bleak — during which a misogynistic Cretin-In-Chief and his army of racists, rapists, rednecks and reprobates continue to ratchet up the war on women — it proudly showcases a remarkable Gal who doesn't suffer foolish men gladly. Just try grabbing her by the * ahem * and she'll break your arm in three different places.
In the grand scheme of all things cinematically superheroic, Wonder Woman takes its cue from the greatest of all such films. Like 1978's Superman, this new movie views its central figure as someone to admire without reservation. In true origin-story fashion, it begins with Diana still a little girl on Themyscira, the island home of the Amazonians. Diana basically has two mommies: her actual mother, Queen Hippolyta (Connie Nielsen), and her aunt Antiope (Robin Wright), who trains her to become a fierce warrior princess.
It's after Diana has become an adult (played by Gal Gadot) that she receives her first glimpse of the outside world. That's due to the sudden appearance of Steve Trevor (Chris Pine), an American pilot whose plane goes down in the surrounding waters. Rescued by Diana, he explains of the global conflict — World War I — that's devastating the rest of the planet and how he himself was working undercover in order to infiltrate a German factory where a new strain of deadly gas was being manufactured. Believing that Ares, the God of War as well as the Amazonians' Public Enemy #1, is behind this terrible conflict, Diana agrees to accompany Steve back to civilization in order to personally slay Ares and thus stop the war.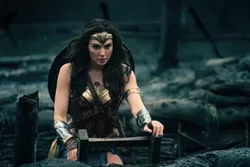 What follows are some of the most involving sequences seen in a superhero saga in many a multiplex moon. As perfectly embodied by Gadot, Princess Diana (tagged Diana Prince by Steve in an attempt to make her not stand out so much; good luck with that!) is compassionate and curious – a winning combination in any person. Her "Crocodile" Dundee-like introduction to bustling London life leads to some amusing interludes (a baby! ice cream! revolving doors!), and Pine expertly plays off her delight at new discoveries by having Steve respond with a disarming mix of amusement and admiration.
Directed by Patty Jenkins (who previously guided Charlize Theron to a Best Actress Oscar for 2003's Monster) from a screenplay by Allan Heinberg, Wonder Woman is more straightforward in its narrative spinning than most superhero flicks of late, with (aside from the bookend scenes) none of the cross-pollination that has lately been turning these films into the big-screen equivalents of Dallas-Knots Landing or Buffy the Vampire Slayer-Angel. In many ways, though, this streamlining places more urgency on the matters at hand, in effect charging them with greater emotional weight. The "No Man's Land" sequence is superb not only in its staging as an action set-piece but also in its sociopolitical ramifications, as a visibly distraught Diana wages a battle for the displaced refugees that everyone else is either unable or unwilling to help.
If there's a significant flaw in Wonder Woman, it's one that plagues the vast majority of these superhero yarns. After approximately two hours of smoothly mixing action and exposition, the end buckles under the weight of CGI overkill. Here's another battle royale that wears out its welcome, and trimming it by even five minutes would have been appreciated. Still, that's about the only complaint that can be lobbed at Wonder Woman, an exciting and empowering film that stops the current trend of only DC's competition producing marvelous entertainment.